Musk will launch Twitter verified feature on December 2
Musk will launch Twitter verified feature on December 2: now apart from blue, gold and gray ticks will also be available, government and companies will have separate badges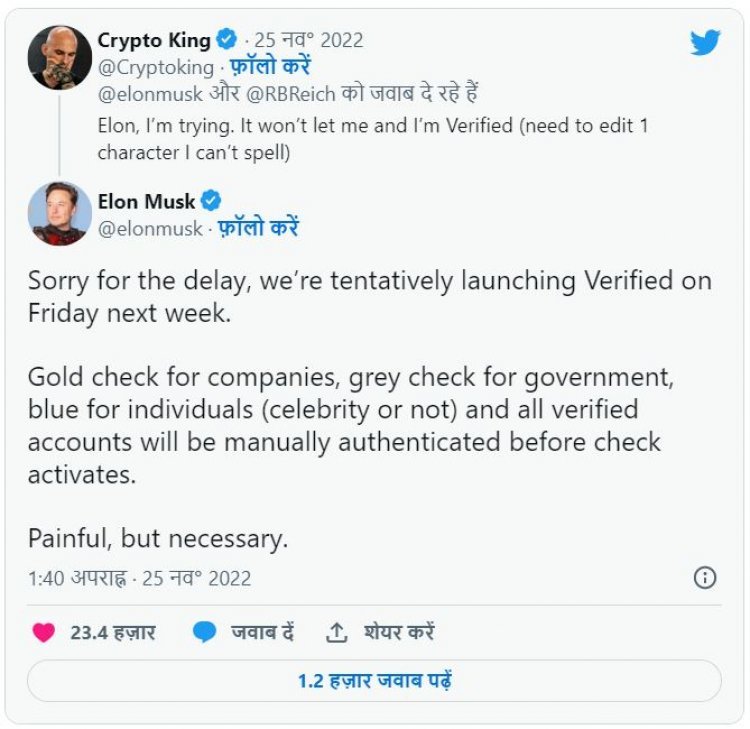 Twitter's new owner Elon Musk has revealed the launch date of the new verification system. According to Musk's recent tweet, Twitter will temporarily launch the verification system (Verified Feature) on Friday next week (December 2). Twitter has decided to launch different badges ie subscription features for the government, companies and common people.
Earlier Musk had said that the verification system would be launched on November 29, but it was later postponed indefinitely. Musk has now shared some details about the verification system i.e. verified feature in his tweet.
Responding to a user, Musk tweeted, "Sorry for the delay, we are tentatively launching the verified feature on Friday next week." In this tweet, Musk has further explained the new colour-coding system of verified ticks.
Musk said, "Now companies will get gold cheques, governments will get gray checks and ordinary citizens will get blue ticks." In addition, all verified accounts will be manually checked before the check is activated. It's painful but necessary." In another tweet, Musk said full details of the verification system would be revealed next week.
Due to the blue subscription, fake accounts were increasing rapidly, due to which about 14 days ago, Twitter announced it to stop its service for some time. Twitter started this service for its iOS users.
As soon as the paid verification feature was rolled out, many fake accounts of celebrities like former US President Donald Trump came to the fore on Twitter. Not only this, but some verified accounts had also created fake accounts for the gaming character 'Super Mario' and basketball player LeBron James.
Elon Musk then took matters into his own hands, tweeting that any account trying to impersonate someone else would be suspended unless they declared it a parody account. In view of similar problems, the Blue subscription service was discontinued.
Elon Musk had told a few days ago that the user will now have to pay $ 8 (about Rs 660) every month for blue ticks, ie verified accounts on Twitter. This charge will vary from country to country. This was announced by Elon Musk on Tuesday night, five days after buying Twitter on October 27.
Elon Musk had told a few days ago that only Twitter Blue users will now get the Blue Tick Verified badge on their account. Even existing users who have a verified badge will need a paid subscription to Twitter Blue. However, these users can get a grace period of around 3 months to switch to the paid subscription. If they don't take a blue subscription then the blue tick will be removed from their account.
Some Twitter users in India received a pop-up on the Apple App Store for Blue subscriptions on the night of 10 November. In this, the monthly price of a Twitter Blue subscription was mentioned as Rs 719. However, the price is still not officially revealed.
Earlier on Twitter, blue tick users were received after identity verification, which showed the authenticity and correctness of that user. Now users can buy blue ticks by paying money. After this, the number of fake accounts with blue ticks has increased rapidly. Fake tweets also started coming from such verified accounts, after which Twitter had to withdraw the decision to pay for service for the time being.
For Latest Update from Sangri Today Like us on Facebook and Follow on Twitter. Fore Latest Video News Subscribe our channel on YOUTUBE. Also Join Our Telegram Channel