Jeremy Roma Shaping the Future of Decentralized Platforms With D.ai.sy
Jeremy's journey with D.ai.sy wasn't always a bed of roses (or daisies, if you will). The rollercoaster had its dips.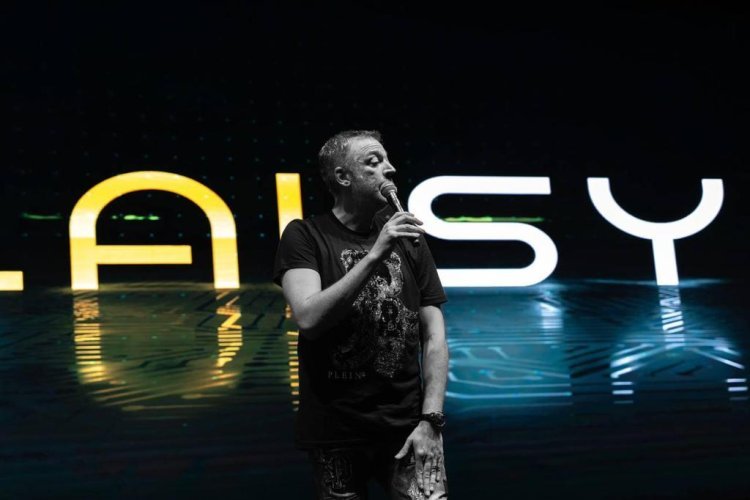 Jeremy Roma Shaping the Future of Decentralized Platforms With D.ai.sy
In the sprawling cosmos of network marketing, where buzzwords often overshadow substance, emerges a figure so audacious, he might just redefine the entire playbook. Meet Jeremy Roma. Armed with the spunk of a start-up whizkid and the wisdom of a sage, his latest project called D.ai.sy is truly disrupting entire industries. If you're picturing a cross between Steve Jobs and Gandalf wearing Robert Graham (but without the long beard), you're on the right track!
First things first, let's talk D.ai.sy. No, it's not the flower, nor is it someone's quirky aunt who bakes the best apple pies. D.ai.sy, which stands for Decentralized AI System, stands tall as Jeremy's magnum opus, encapsulating his philosophy that "We are all born to do what has never been done." This project is a true disruptor, a model where everyone wins, and a model that uses smart contracts and blockchain technology for immutable trust and transparency. D.ai.sy is here to change the game of network marketing for good.
Picture this: A young 20 year old Jeremy, clad in his best suit (read: the only suit he owned), strutting down a shopping center late at night. Using storefront windows as mirrors, he's not checking out his dapper reflection. Oh no, he's visualizing himself as a maestro of the business world, rewiring his own limiting beliefs about who he was. Fast forward to the next day, and our protagonist is pitching his business vision to a bank president. Now that's what you call 'levelling up'! This wasn't just about making a sale; it was about Jeremy buying into his own vision, proving that if you believe in who you are, others will too.
Jeremy's journey with D.ai.sy wasn't always a bed of roses (or daisies, if you will). The rollercoaster had its dips. From the initial crash of the entire platform after only 4 days into their launch, to navigating the turbulent waters of the AI development and performance, Jeremy's resilience and unwavering leadership, stands out. The secret sauce? A blend of authenticity, transparency, and unfaltering vision among the founders, a sense of humor, and according to Jeremy the most important ingredient, "a community filled with the greatest leaders ever assembled in this industry."
The most recent evolution of D.ai.sy involved integrating data from millions of human inputs, including some of the top financial market traders in the world. Think of it as training a puppy, but instead of 'sit' and 'fetch', it's 'analyse' and 'predict'. The results have been staggering, and D.ai.sy is gearing up to showcase its next smart contract at a global event. Mark your calendars for February at the Coca Cola arena in Dubai, for Limitless 2024. Roma has very boldly said that the release of the new Decentralized Fund Model will be a disruptor at a whole new level, and there are a couple of other massive surprises in store.
Even D.ai.sy's global events come with a twist. Attendees actually MAKE MONEY by just being there, because 100% of the event ticket sales is placed into live trading, and the profits are shared with those who attend and for every influencer who brings others! It's like attending a concert and getting paid for singing along and inviting your friends! How's that for disruption? And quite frankly, seeing a project bet on themselves by taking the event funds and placing them into their own AI trading platform, is simply unheard of, and brilliant!
In an industry that is filled with hype and exaggerated verbal gymnastics, we decided to pull data directly from the blockchain analysis, and in the case of D.ai.sy, the numbers themselves win the Gold medal. As of the time of this article:
220,000+ wallets have contributed to the Crowd Funding Smart Contract
2M+ transactions on the Smart Contract
590M+ USDT has been Crowd Funded
340M+ USDT has been generated in trading profits
242M+ USDT has been paid out in AI Trading Rewards
185M+ USDT has been paid out in our referral plan
500M+ USDT is currently in live trading with the AI Development
When asked "what are the biggest keys to D.ai.sy's success", his answer was simple and straight forward: "Without question, two things. First, is having the right partners. I have been on the other side of that as a marketer and as a business owner, and I can tell you, the most important ingredient in anything great in life, is doing it with the right people, and in business, that begins with the right partners. Equally as important, is having the right leaders in the field, leading the movement forward. We have been so blessed with some of the top leaders in the world, leaders who not only stood through the challenges, they led through them. Some of the most courageous and authentic people in the world, are leading D.ai.sy.
Jeremy Roma is not just another entrepreneur on the block. He's a visionary, a thought leader, and the fun uncle everyone wishes they had. His journey with D.ai.sy is a testament to the fact that with the right blend of audacity, innovation, and a dash of humor, the sky's the limit. So, next time you think of network marketing, remember Daisy and the man who dared to think differently, all while sporting a that contagious smile. Cheers to the future and to the endless possibilities it holds!

Disclaimer: This is a company press release. No Sangri Today journalist is involved in creation of this content.