Hindu organization takes out Jan Aakrosh Morcha in Mumbai
Hindu organization takes out Jan Aakrosh Morcha in Mumbai: Demand for implementation of love jihad and anti-conversion law, RSS-BJP also involved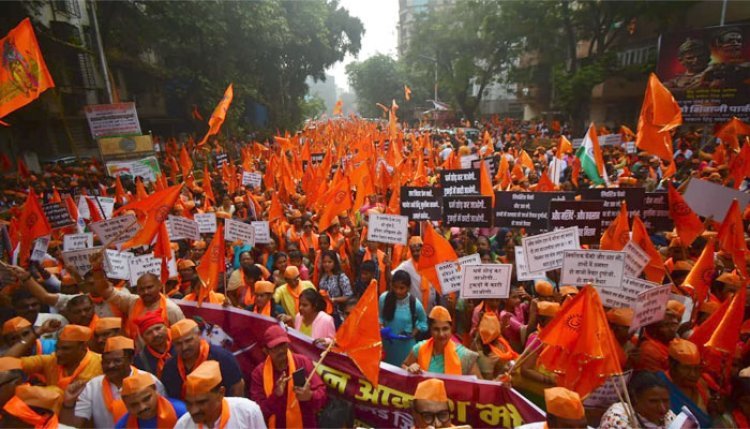 Hindu organizations took out Jan Aakrosh Morcha at Mumbai's Dadar Shivaji Park on Sunday. A large number of people have joined here. People demand that love jihad and anti-conversion laws should be implemented in the entire country including the state. It is being told that the Virat Morcha was taken out from Dadar Shivaji Park to Kamgar Stadium from 10 am. Hindu organizations have made preparations to bring together more than one lakh Hindu community people from all over Maharashtra.
Dozens of Hindu organizations including Vishwa Hindu Parishad (BHP), RSS and BJP have joined the front. However, many Hindu organizations have been demanding the implementation of Love Jihad and anti-conversion laws in the entire country for a long time.
In the last 2 months, more than 40 Hindu Janakrosh morchas have been taken out in Maharashtra, but today's morcha is a huge one. People demand that laws should be made against Love Jihad in Maharashtra. Encroachment on government land should be stopped. Action should be taken on illegal Islamic religious places. Action should be taken against land jihad.