France reached the quarter-finals: Beat Poland in a one-sided match
France reached the quarter-finals: beat Poland in a one-sided match, Kylian Mbappé scored two goals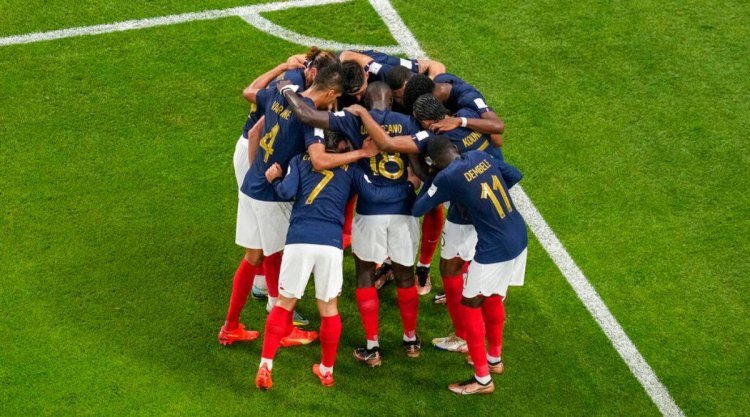 France defeated Poland 3–1 in the pre-quarterfinal match of the FIFA World Cup 2022 on Sunday. With this, France qualified for the quarter-finals. Poland's journey in the World Cup ended here. Olivier Giraud scored for France in the 44th minute. And Kylian Embappé scored two goals. He scored in the 74th and 90+1 minutes. Poland's Robert Lewandowski scored Poland's lone goal through a penalty in the 90+7th minute.
Olivier Giroud of France did wonders for France in the World Cup. He scored the goal in the 44th minute. Embappé came forward and passed to Gerudt. After this, Garud gave the finish and brought the ball inside the net. With this goal, Giraud became the top scorer of the France national team. He beat Thierry Henry of France.
France scored their second goal in the 74th minute of the second half. This goal was scored by the star player of the team, Kylian Embappé. Embappé brought the ball and fired it into the left corner of the goalpost.
Embappé scored another goal in injury time after 90 minutes of play. Embappé took the ball forward on Thuram's pass from France and fired the ball into the top right corner. With this, he has scored a total of 9 goals in the World Cup.
Poland's Robert Lewandowski's goal did not work for the team. He scored in the 7th minute of injury time i.e. 90+7th minute. This goal happened through a penalty. By that time it was too late. Full-time was called soon after his goal and the match was over.
France definitely dominated Poland in the first half. But the contest was equal. France had 9 shots on goal and Poland had 8 shots on goal. But, France converted a shot which Poland could not do. On the other hand, France kept the ball 57% of the time and Poland kept the ball 43% of the time.
France: (4-2-3-1) Hugo Lloris (Captain), Jules Cunde, Raphael Varane, Dayot Upamecano, Theo Hernandez, Aurelien Tchoumeny, Adrien Rabiot, Ousmane Dembele, Antoine Griezmann, Kylian Mbappe and Olivier Giroud.
Poland: (4-1-4-1) Wochek Szczany (goalkeeper), Matty Cash, Kamil Glick, Jakub Kievor, Bartosz Berezinski, Grzegorz Krychowiak, Jakub Kaminski, Sebastian Szymanski, Piotr Zielinski, Przemyslaw Frankowski and Robert Lewandowski (captain).