Draupadi Murmu will go to Queen Elizabeth's funeral
Draupadi Murmu will go to Queen Elizabeth's funeral: President will be in Britain from 17 to 19 September, first foreign trip after assuming office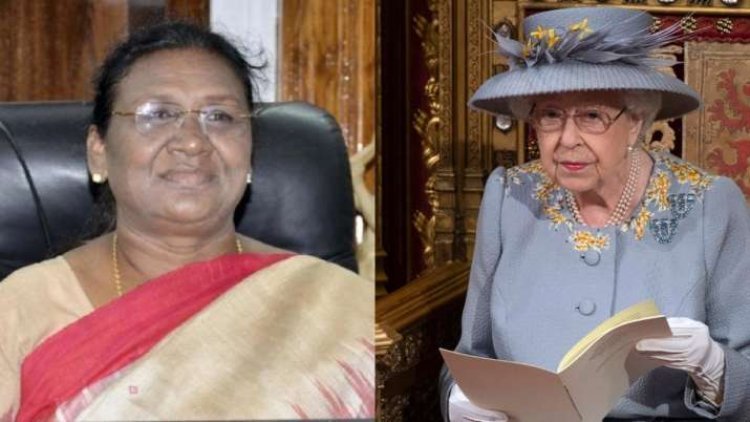 President Draupadi Murmu will visit Britain on 17 September. She will attend Queen Elizabeth's funeral. According to the Ministry of External Affairs, Murmu will be visiting Britain from 17 to 19 September. This will be Murmu's first foreign visit after becoming the President.
President Draupadi Murmu, Vice President Jagdeep Dhankhar and Prime Minister Narendra Modi condoled the death of Queen Elizabeth. External Affairs Minister Dr. S Jaishankar visited the British High Commission in Delhi on 12 September and condoled the death of the Queen. India also declared a day of national mourning on 11 September on the death of the Queen.
Queen Elizabeth's funeral will take place at Westminster Abbey Church in London. The body of the Queen reached London from Scotland on 13 September. After which he was taken to his home at Buckingham Palace. Now the Queen's coffin will be kept in Westminster Abbey for four days, after which her funeral will take place on 19 September.
About 500 leaders from around the world will attend the Queen's funeral. It will include President Joe Biden of America, leaders of Commonwealth countries and the Royal Family of Europe and other leaders of the world. No leaders have been invited from Belarus and Myanmar, including Russian President Vladimir Putin.
For Latest Update from Sangri Today Like us on Facebook and Follow on Twitter. Fore Latest Video News Subscribe our channel on YOUTUBE. Also Join Our Telegram Channel