CRPF DG said – Bihar became Naxal-free
CRPF DG said – Bihar became Naxal-free: 77% reduction in militancy incidents, Amit Shah said – operation will continue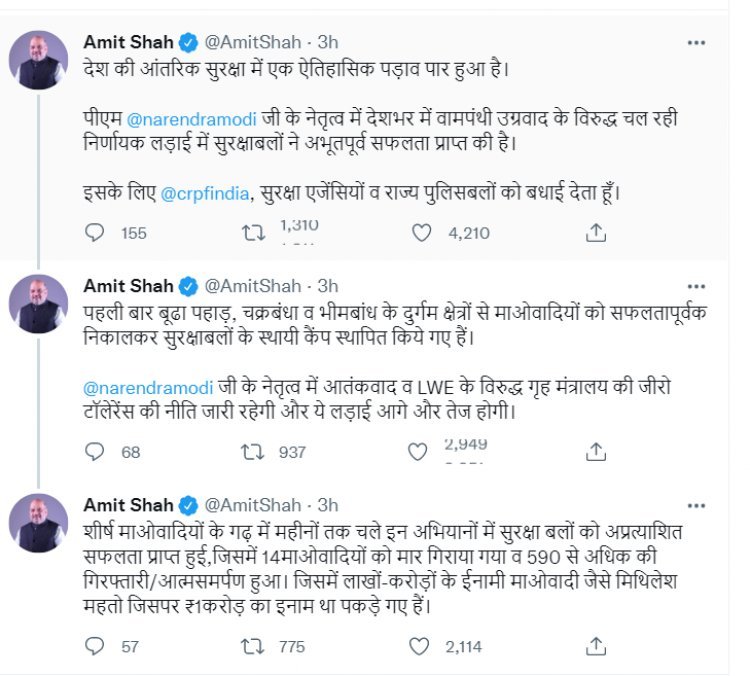 CRPF DG Kuldeep Singh said that there has been a reduction of about 77% in the incidents of Left Wing Extremism in the country. It was at a high of 2258 in 2009, which has now come down to 509. At the same time, a decrease of 85% has been registered in the death rate.
Kuldeep Singh said, Buddha Pahar in Jharkhand, which was a Naxal-dominated area, was freed. The security forces have got this success in three separate operations. The force is reaching there by helicopter. Now there will be permanent camps of security forces.
According to the DG, since April 2022, 7 Naxalites have been killed in Chhattisgarh, 4 in Jharkhand and 3 in Madhya Pradesh under Operation Thunderstorm. A total of 578 Maoists have surrendered or have been arrested. At the same time, talk about Bihar, this state is Naxal-free.
For this, Union Home Minister Amit Shah praised the security forces. He said, under the Naxal operation, the security forces have freed many areas from the Naxalites. Under the leadership of PM Modi, the Ministry of Home Affairs is working with the policy of zero tolerance against terrorism and Left Wing Extremism, which will continue even further.
The Home Minister said that we have got historic success for the security forces in the ongoing fight against Left Wing Extremism across the country. Left Wing Extremism is a major threat to the internal security of the country, but we have crossed a historic milestone in the internal security of the country by campaigning against it. I congratulate CRPF, security agencies and state police forces for this.
Amit Shah said that areas like Budha Pahar, Chakrabandha and Bhimbandh, which were once considered Maoist strongholds, today have permanent camps for security forces. After months of operation, the security forces got this success. As part of the operation, 14 Maoists have been gunned down by security forces and more than 590 arrests have been made. Many of these had a reward of lakhs of rupees.
For Latest Update from Sangri Today Like us on Facebook and Follow on Twitter. Fore Latest Video News Subscribe our channel on YOUTUBE. Also Join Our Telegram Channel