Allah-hu-Akbar slogans outside the temple in England: Muslim demonstration in Smithwick
Allah-hu-Akbar slogans outside the temple in England: Muslim demonstrations in Smithwick; Violence took place in Leicester 2 days ago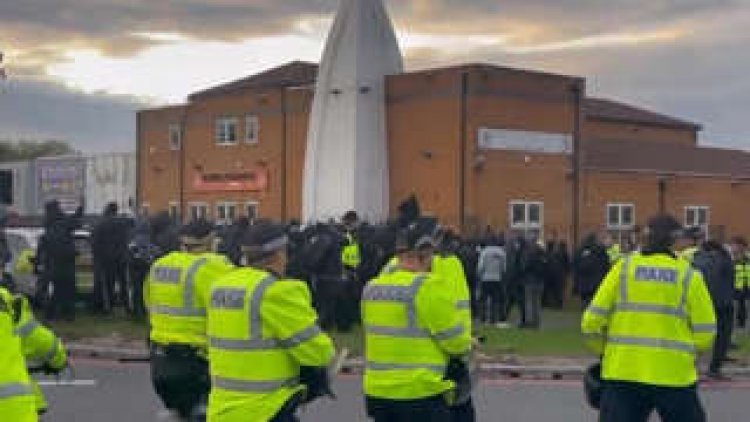 Hindu temples are on target in England. In the town of Smithwick here, members of the Muslim community demonstrated outside a temple on Wednesday morning. People raised slogans of Allah-hu-Akbar. Earlier there were clashes between the people of the Hindu-Muslim community in Leicester city. Tension still persists here.
The video of the demonstration in the city of Smithwick is going viral on social media. In this, about 200 people are seen moving towards the Durga Bhawan Hindu temple located at the Muslim spawn lane. On getting the information, the police reached the spot. The officers tried to stop the people, but some people started climbing on the walls of the temple.
The clashes between Hindu and Muslim communities started after Pakistan's defeat in the Asia Cup match against India played in Dubai on 28 August. Since then, there has been an appeal for peaceful demonstrations. Posters have been released for this on social media. According to a Birmingham World report, a social media account called 'Apna Muslim' in Smithwick called for a 'peaceful protest' outside the Durga Bhavan temple.
Violence broke out on Melton Road in the Belgrave area of ​​Leicester City on 6 September. Angry Pakistani Muslims had attacked Hindus here. At that time the police had taken 2 people into custody. Chief Constable Rob Nixon of Leicester Police said people were taking down flags above the religious building. In a viral video, a man was also seen removing the flag outside a religious building on Melton Road in Leicester.
Leicester Police have issued a dispersal order. Under this, anyone can be stopped and interrogated. People below the age of 16 have been asked to stay at home. So far, the police have arrested more than 20 people in this case. According to Chief Constable Rob Nixon, the police operation will continue.
Some Hindu groups claim that some groups are coming to Leicester from Birmingham, a city with a large Muslim population. The Muslim community has also levelled allegations of the attack. According to activist Majid Freeman, Hinduist groups raised slogans outside the mosque and attacked community members on the street. It is alleged that the mob raised religious slogans in Muslim-populated areas.
For Latest Update from Sangri Today Like us on Facebook and Follow on Twitter. Fore Latest Video News Subscribe our channel on YOUTUBE. Also Join Our Telegram Channel