Kangana Ranaut praised Ajay Devgan: He opens 4 screen multiplex in Ahmedabad
Ajay opens 4 screen multiplex in Ahmedabad: Kangana praised the actor and said - a superstar should use power like this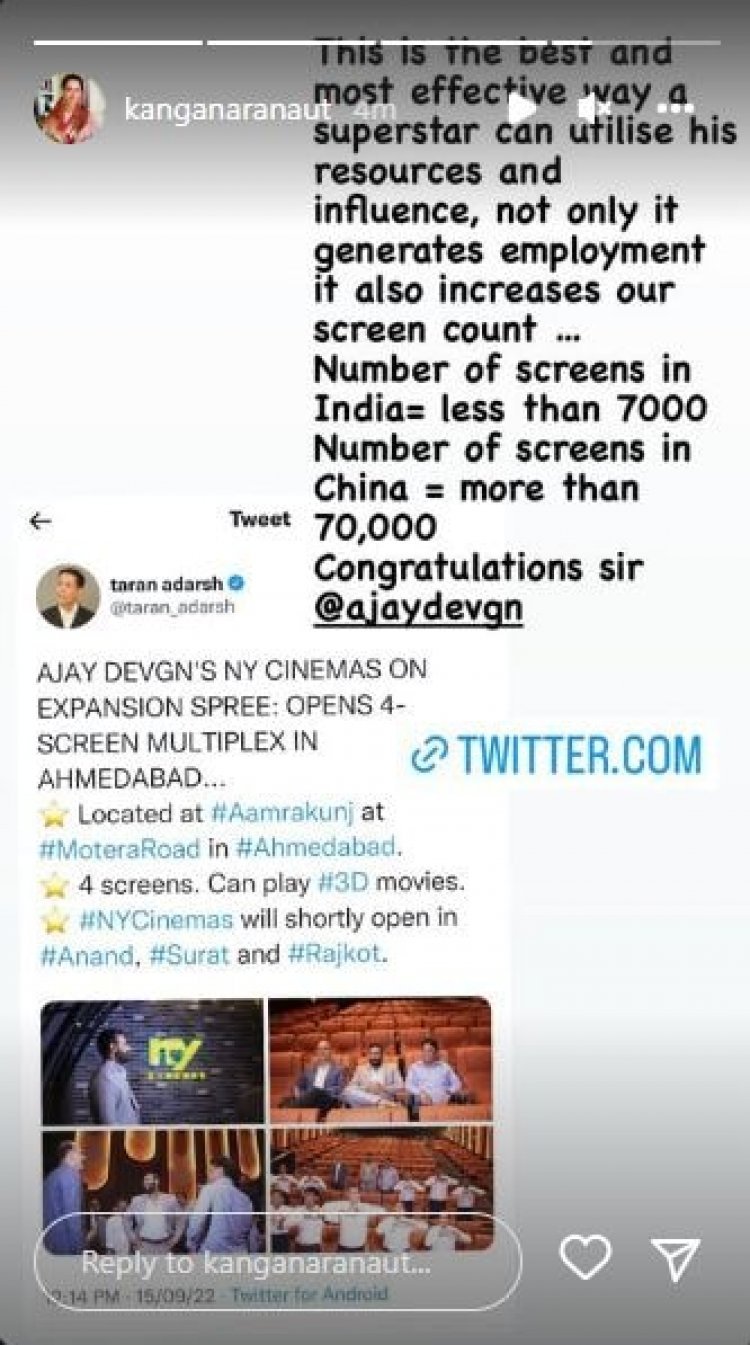 Recently, Kangana Ranaut has praised Ajay Devgan. In fact, on September 15, Ajay opened a four-screen multiplex in Ahmedabad, in which films will be shown in the coming times. In such a situation, Kangana praised Ajay for this move.
A few days back, Kangana had accused Ajay of not doing her films. After a few months, now the actress is praising Ajay. Kangana shared trade analyst Taran Adarsh's tweet on her Instagram story. In Kangana wrote – 'This is the best and most effective decision, through which a superstar can use his money and power. Multiplexes not only create jobs but also increase the number of our screens. India has a total of 7000 screens so far, while China has more than 70000 screens. In such a situation, the decision to open a multiplex is very good. Congratulations to you sir.
Actually, film analyst Taran posted on his social media and gave information about 4 screen multiplex in Ahmedabad. Taran wrote in the tweet- 'Ajay Devgan has opened a 4 screen multiplex in Ahmedabad, which is located in Aamrakunj. A few years back Ajay started NY Cinema, which now has several branches open in Anand, Surat and Rajkot. This multiplex is part of this NY Cinema. Soon this 4-screen multiplex will be started in 3D. Ajay has named this multiple after his children.
Some time ago, Kangana accused Ajay of promoting films of all actors. But never promoted his films on social media. The actress accused Akshay Kumar of praising the film Thalaivi, but not promoting it on social media.
Soon Kangana will be seen in the role of Indira Gandhi in the film Emergency. In this film, Kangana will try her hand at acting as well as direction. Also, Kangana is making this film under her production house 'Manikarnika'. The film will be released on 25 June 2023. At present, other preparations are going on from the shooting of this film.
For Latest Update from Sangri Today Like us on Facebook and Follow on Twitter. Fore Latest Video News Subscribe our channel on YOUTUBE. Also Join Our Telegram Channel