India's lawn bowls team reached the final for the first time in the history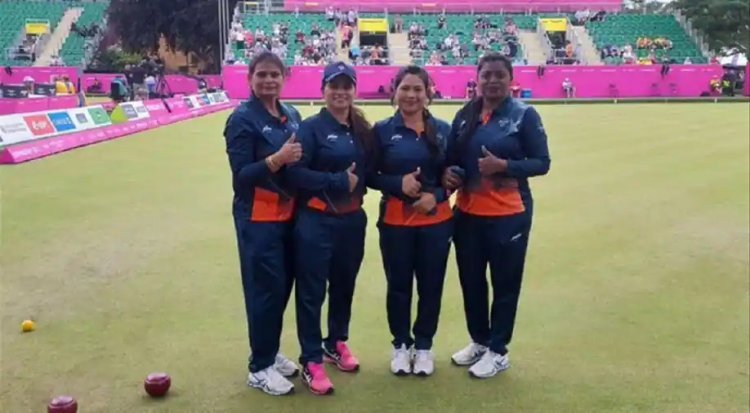 The Indian Lawn Bowls women's team has reached the finals for the first time in the 92-years of history of the Commonwealth Games. The team defeated a strong team like New Zealand with the score of 16-13. Indian players Lovely Choubey, Pinky, Nayanmoni Saikia, and Roopa Rani Tirkey performed brilliantly. Some players had even kept the Monday fast of Sawan.
After the match, the players said that only by the grace of Bhole Baba, they were able to reach the finals. The Indian team was participating in lawn bowls for the fourth time. The first time the Indian team participated was back in 2010 when it was held in Delhi. They were able to reach till semi-finals.
Training without a coach and government support
The players told the newspaper that, they were not getting any support from the government due to lack of success for the last three times. Preparations for Birmingham started 5 months ago at Yamuna Sports Complex in association with the Lawn Bowls Federation of India.
The complex was built for lawn balls during the 2010 Commonwealth Games. Then the Australian coach trained for a year. Since then the team has not got any coach. Players practiced without a coach. At the same time, in Birmingham also the team arrived four days before the tournament. Within four days, the team practiced fiercely on the green ground. Which they got the benefit of.
The players of the team told that the only mantra for winning in the semi-finals was that this time they have to go for the medal and give their best. Everyone encouraged each other and everyone gave their hundred percent.
India has made a big difference by defeating New Zealand. The New Zealand team has so far won 40 medals in this game. It is one of the top 5 teams in the world. In the semi-final match, the Indian team was at one point trailing 0-5.
Despite this, the team bounced back and took a 7-6 lead. Later this lead increased to 10-7. From here the Indian team did not look back. They scored consistently and beat New Zealand by the score of 16-13.