Air India hostesses will not be seen in designer earrings
Air India hostesses will not be seen in designer earrings: the size of bindi, number of bangles fixed… guidelines on the hairstyle of mail crew too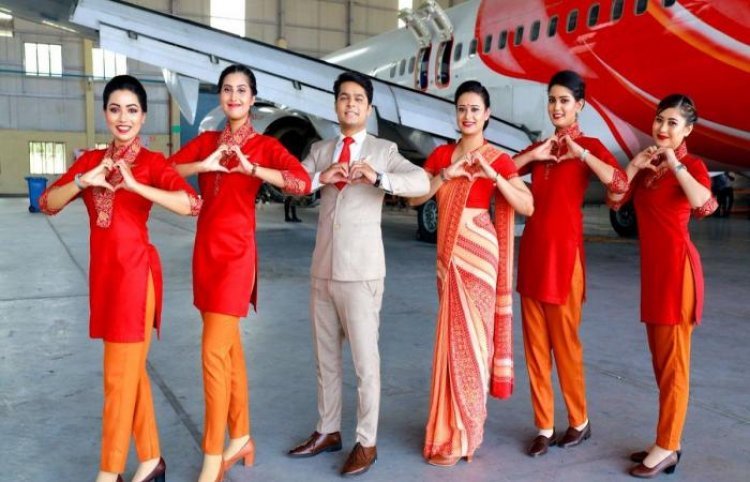 Air India has issued grooming guidelines for cabin attendants. In this, the size of the bindi to the number of bangles has also been fixed. It has been said in the guideline that the size of the dot should not be more than 0.5 cm. Wearing more than one bangle is also not allowed. The hairstyle of the mail crew is also mentioned in the guideline. TOI has published a report regarding this.
According to the report, Air India has asked those members of the mail crew who have less hair or who have baldness to keep a clean-shaven head ie a bald look in the grooming guidelines. Such crew members have also been asked to shave their heads daily. At the same time, crew members cannot have dishevelled hair or hairstyles with long matted hair.
Female crew members are not allowed to wear pearl earrings. Bindi is optional, but its size should not be more than 0.5 cm. Women crew can wear only one bangle on their hands, but the bangle should not have any design or stone.
Apart from this, women's crew cannot use high top knot and low bun styles to tie hair. The female crew can wear only gold and diamond round-shaped earrings without any design. Sheer calf-length stockings matching the skin tone are also essential with both saris and Indo-Western wear.
On the other hand, only one ring is allowed to be worn on both hands, but the condition is that the ring should not be more than 1 cm in width. Apart from this, female crew members have been given permission to use only four bobby pins. Applying henna is also not allowed.
The guidelines state that religious or black thread is not allowed to be tied on the wrist, neck or ankle. Apart from this, the crew is also not allowed to carry plastic bags or shopping bags in public areas.
Crew members have been asked to use eyeshadow, lipstick, nail paint and hair shade cards as per the uniform. Crew members with gray hair must use a natural black shade. Air India released a long list of guidelines a month ago. However, now another document has been issued, in which the necessary changes in the Uniform Guidelines have been highlighted.