Shilpa Shetty Casts a Spell on Ahmedabad During the Promotion of 'Sukhee'
Sukhee releases only in theatres on 22nd September Ahmedabad (Gujarat) [India], September 16: Shilpa Shetty is currently making many hearts melt with her endearing performance in and as Sukhee. The trailer of the film has left fans very impressed, and people cannot wait to meet Sukhee on 22nd September in theatres. Aftera ll they have [...]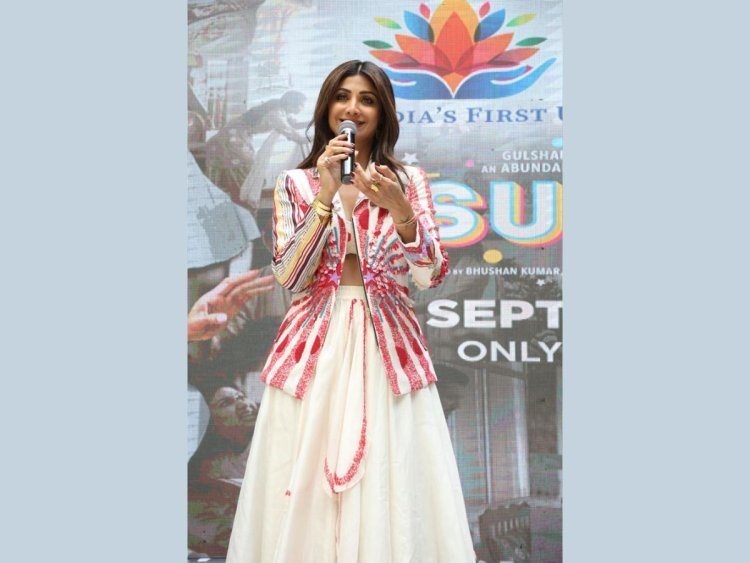 Shilpa Shetty Casts a Spell on Ahmedabad During the Promotion of 'Sukhee'
Shilpa Shetty is currently winning over countless hearts with her captivating performance in the film "Sukhee," in which she plays the lead role. The film's trailer has left fans deeply impressed, and anticipation is building as the release date of September 22nd approaches. "Sukhee," directed by Sonal Joshi, is being hailed as an inspirational story for women everywhere.
As part of her promotional tour in Ahmedabad, Shilpa Shetty ensured that she had a day filled with fun and entertainment, much like her character Sukhee experiences at one point in the film. Shilpa engaged with an enthusiastic and lively crowd of college students, where she launched the spirited reunion song "Nasha," which received an overwhelming response. She also graced a women's event attended by over 1000 ladies who enthusiastically danced to the beats of "Nasha." Shilpa concluded her day by participating in a Ficci Flo event, where she engaged in discussions with women on a wide range of topics, including business, fitness, and, of course, her role as Sukhee.
The cast of "Sukhee" includes Shilpa Shetty, Kusha Kapila, Dilnaz Irani, Pavleen Gujral, Chaitannya Choudhry, and Amit Sadh.
"Sukhee," marking Sonal Joshi's directorial debut, is produced by Bhushan Kumar, Krishan Kumar, Vikram Malhotra, and Shikhaa Sharma.
Don't miss the theatrical release of "Sukhee" on September 22nd, 2023, to experience the magic on the big screen.