Police front against ISI in PAK: Doubts on the role of army in the blast increased
Police front against ISI in PAK: Doubts on the role of the army in the blast increased, and anger erupted over the death of more than 100 policemen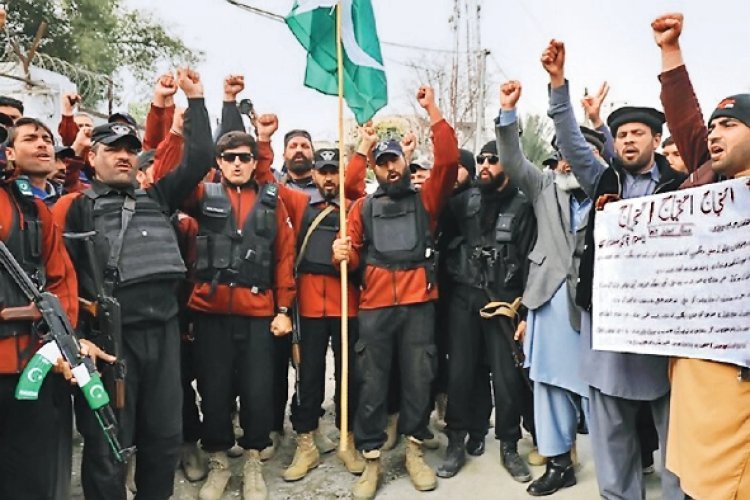 After the terrorist attack on Monday in Peshawar, Pakistan, questions were being raised on the role of the army. Meanwhile, the police of Khyber Pakhtunkhwa province have opened a front against the intelligence agency ISI. Khyber police personnel raised slogans against ISI on Wednesday and demanded action against the culprits.
This happened for the first time in Khyber Pakhtunkhwa when more than two dozen policemen dressed in uniform and carrying weapons gathered outside the Peshawar Press Club and demonstrated. Such demonstrations took place in several districts of Khyber.
Actually, more than 100 policemen lost their lives in the blast on the mosque located in Peshawar Police Headquarters. ISI's hand is being told behind the attack. After this, angry policemen demonstrated. Meanwhile, allegations and counter-allegations have started between the Pakistan government and the opposition.
Prime Minister Shehbaz Sharif blamed Imran's regime for the violence and accused him of helping and negotiating with Taliban terrorists while he was prime minister. At the same time, Imran Khan alleged that the government wanted to postpone the general elections in the name of terrorism.
Following human rights organizations, Maryam Nawaz, vice president of the ruling party Pakistan Muslim League (Nawaz), blamed former ISI chief General Faiz Hamid for the attack.
He said- Imran used to call General Hamid eye, hand and ear. Then why did they open the doors for terrorists (from Afghanistan)? Why were the hardcore terrorists released?
The memo of Khyber Pakhtunkhwa Police has become public. It states that more than 300 senior police officers will resign if the attack on the mosque is not properly investigated and the guilty are not punished. Along with them, 1 lakh jawans of junior rank have also threatened to resign.
Khyber Pakhtunkhwa Police has got big information about the suicide attack. The police chief said that the assailant had entered in a police uniform. 10 to 12 kg of TNT is expected to be used in the attack.
Former Home Minister and Imran's close Sheikh Rashid has been arrested. It is being linked to the allegation of conspiracy to assassinate Imran on former President Asif Ali Zardari. Earlier, former minister Fawad Chaudhary was arrested. He has got bail.
For Latest Update from Sangri Today Like us on Facebook and Follow on Twitter. Fore Latest Video News Subscribe our channel on YOUTUBE. Also Join Our Telegram Channel