Misbehaviour with Kareena Kapoor at the airport
Misbehaviour with Kareena Kapoor at the airport: When the fan wanted to put his hand on his shoulder to take a selfie, someone pulled the bag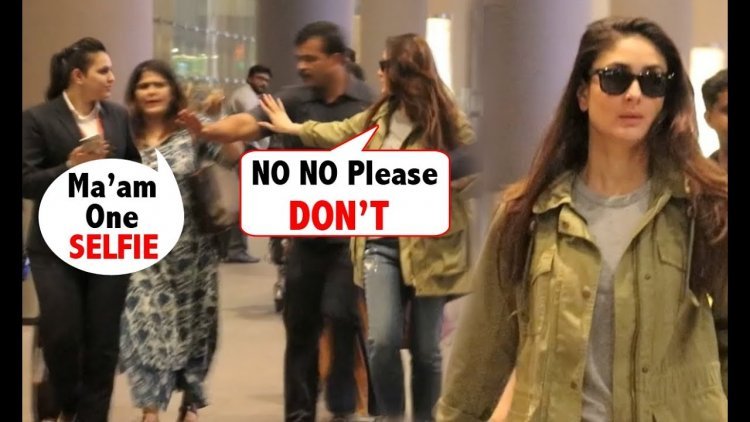 Kareena Kapoor recently misbehaved at the Mumbai airport. On seeing Kareena, the fans became desperate to take a selfie with her and Kareena, who reached the airport in low security, started fighting in the crowd. Meanwhile, a fan forcibly tried to put his hand on Kareena's shoulder. During this, Kareena looked very scared.
Bollywood paparazzi Viral Bhayani recently shared a video, in which Kareena looks very uncomfortable in the crowd. Actually, Kareena had turned back to avoid the crowd, but then a fan wanted to put her hand on her shoulder. The bodyguard present on the spot removed that fan, but Kareena was very scared of it.
After this, a female fan wanted to pull Kareena's hand and bag. On this, Kareena gave a look to that fan and while handling the bag, took entry directly into the airport. This video of Kareena is also becoming very viral on social media.
As soon as the video surfaced, many people are strongly condemning the fans in the comment box. One user wrote Fans should know how to behave. While one wrote, she is really scared. People should be a little sensitive. They are human too. One user wrote, if Kareena had reacted to this behaviour, people would have said that there is a lot of attitude in this, boycott it, but just look at these people, how they are flirting. Even if you are a fan, the behaviour should be kept right.
Kareena Kapoor reached the airport in a half sweater with a white shirt. Kareena's look was quite cool in dark glasses and tied hair.
For Latest Update from Sangri Today Like us on Facebook and Follow on Twitter. Fore Latest Video News Subscribe our channel on YOUTUBE. Also Join Our Telegram Channel