Football World Cup: Argentina won by Messi's goal: beat Mexico 2-0
Football World Cup... Argentina won by Messi's goal: beat Mexico 2-0, Lionel equals Maradona's record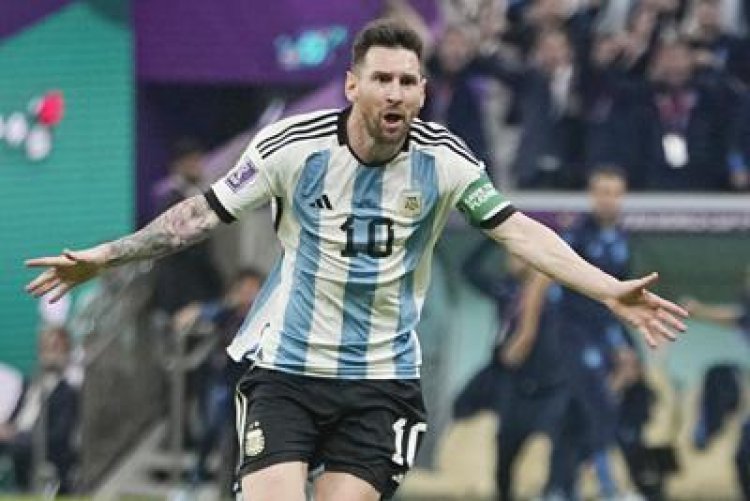 Two-time world champions Argentina have kept their hopes of winning the Qatar World Cup alive. The team, which suffered a major upset in the first match, bounced back with a 2-0 win over Mexico. However, the team will have to win their last league match against Poland on December 1 to enter the knockouts.
Lionel Messi and Enzo Fernando scored one goal each for Argentina. This was Lionel Messi's 21st match. With this, he equalled Argentina's all-time great Diego Maradona's record of 21 matches.
Argentina has registered its 11th consecutive victory over Mexico. His last defeat was 18 years ago in the 2004 Copa America. Mexico then won 1–0.
Lionel Messi scored the first goal for Argentina in the 64th minute at the Lusail Stadium on Saturday-Sunday night. The 35-year-old star footballer scored from outside the penalty box on Angel Di Maria's pass. It was Messi's 8th World Cup goal. Young Enzo Fernando scored the second goal of the match in the 87th minute. After a corner, he took Messi's short pass deep inside the box and scored a spectacular goal.
Messi's team has done a clean sheet after 7 World Cup matches. The last time he did this was in the semi-finals of the 2014 World Cup. Then that match with the Netherlands was a goalless draw. However, the team entered the final on penalties.
Mexico has lost all four matches played against Argentina in the World Cup. He is behind Nigeria in terms of losing the most World Cups against Argentina. Nigeria has lost 5 matches to Argentina.
For Latest Update from Sangri Today Like us on Facebook and Follow on Twitter. Fore Latest Video News Subscribe our channel on YOUTUBE. Also Join Our Telegram Channel