Cyclone Sitrang knocks in Odisha-Bengal on Diwali
Cyclone Sitrang knocks in Odisha-Bengal on Diwali: Speed ​​may remain 100-110 kmph, heavy rain alert in many districts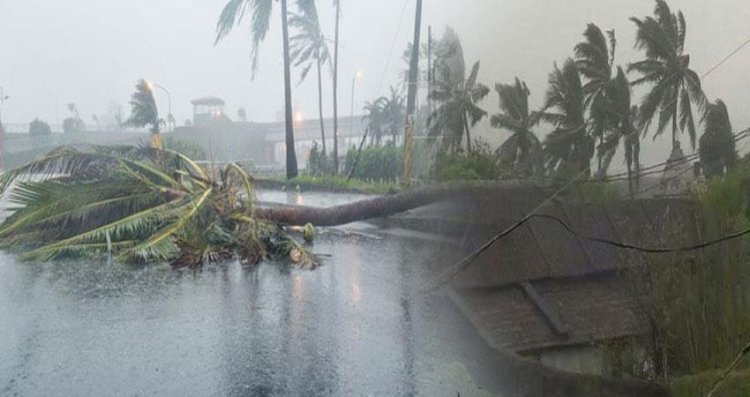 On the occasion of Diwali, there is a danger of cyclonic storm Sitrang in West Bengal and Odisha. According to the report released by the Meteorological Department, the low-pressure area over the North Andaman Sea has turned into a depression. It is located about 1,460 km south-southeast of the coastal region of West Bengal. Due to this, there is a possibility of heavy rain in many districts of Odisha and Bengal.
The effect of Cyclone Sitrang will be visible in Odisha from the morning of 22 October. Winds will blow here at a speed of 45 to 65 kmph. Due to the rising tide in the sea due to the cyclone, the fishermen have been instructed not to venture toward the sea. It will start raining in Odisha on the morning of 23 October. The Meteorological Department has predicted heavy rains in Coastal Odisha. Due to this high alert has been issued in 8 districts of the state.
This cyclone is likely to reach the coasts of West Bengal and Bangladesh on 25 October. Several global models have indicated that the storm may intensify into a severe cyclone with a speed of 100-110 kmph before making landfall on the Bangladesh coast. On Friday, a meeting was called with Bengal Chief Minister Mamata Banerjee to take stock of the preparedness to deal with the cyclone, gave several instructions to the officials here. In Bengal, people have started shifting to safer places in low-lying areas of many districts.
In Odisha and West Bengal, Kali Puja will be celebrated on 24 October and Diwali on 25 October. During this time people are troubled by the rain alert due to the cyclone. The Meteorological Department says that the cyclone can cross the Odisha coast on Tuesday and reach the West Bengal-Bangladesh coasts. Due to this, winds with a speed of 90-110 kmph can be made near the north and adjoining central Bay of Bengal, West Bengal and Bangladesh coasts.