Bengal CM handed over a letter to PM; Fund sought for MGNREGA, PM housing and road scheme
Bengal Chief Minister Mamata Banerjee met Prime Minister Narendra Modi at the PM's residence today.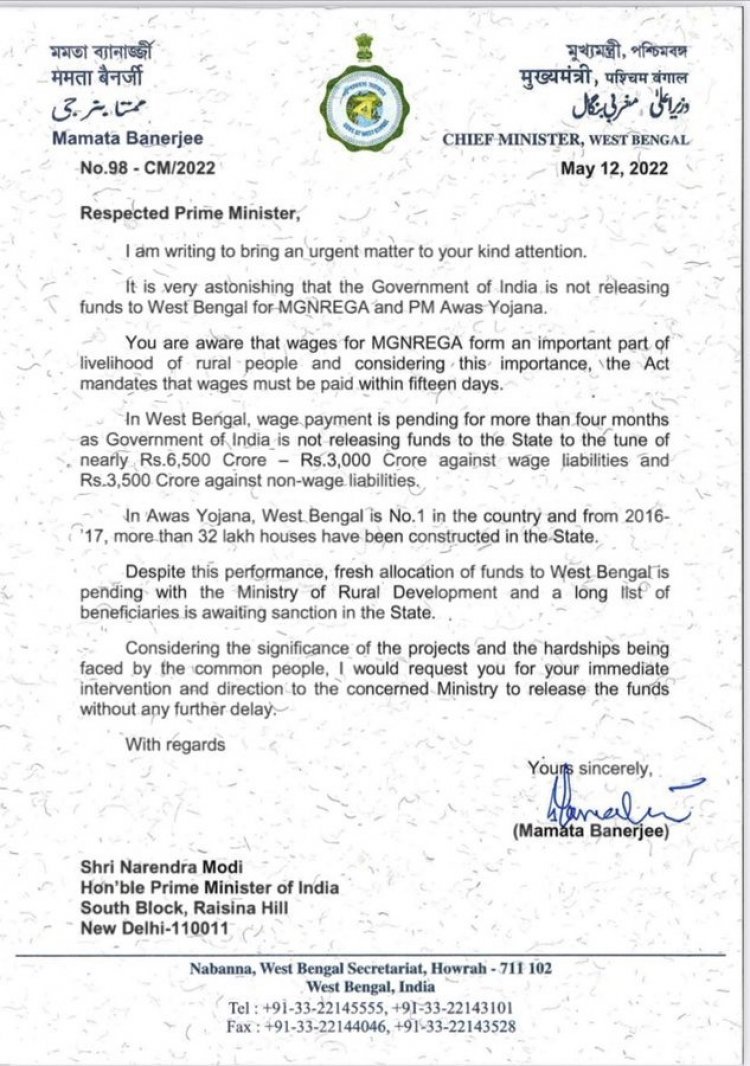 Mamata met PM Modi: West Bengal CM Mamta Banerjee has reached Delhi on a 4-day tour. Didi met Prime Minister Narendra Modi at the PM's residence. During this, he talked about many issues including the GST arrears of the state. Earlier, Mamta had met the PM on 24 November last year.
This visit of Mamata comes at a time when the Enforcement Directorate (ED) is continuously taking action against her party leader Partha Chatterjee.
Mamta Banerjee has handed over a letter to PM Modi. In this, he has appealed to release funds to the state for implementing MGNREGA, PM Awas Yojana and PM Gramin Sadak Yojana. In the letter, he wrote that Rs 17,996 crore is pending on behalf of the Center regarding these schemes.
Mamta also wrote in the letter that about Rs 1,00,968.44 crore is yet to be given by the government on many schemes related to the development and public welfare. With such a huge amount stagnant, it is becoming difficult to complete the works of the state and mobilize facilities for the people.
Bengal CM will participate in the program of NITI Aayog to be held in the capital on August 7. Along with this, she will also meet senior leaders of opposition parties. Tonight, Mamata may meet party MPs at TMC's Rajya Sabha member Sukhendu Shekhar Roy's residence. On Saturday, she is likely to discuss political issues with non-Congress opposition leaders.
This visit of Mamta is being considered special due to the Vice Presidential elections to be held in the country on 6th August. Let us tell you that Mamata Banerjee's party has decided not to participate in the Vice Presidential elections. Along with this, he had also announced to come to Delhi during every Parliament session. Mamata Banerjee's visit to Delhi will boost the morale of Trinamool Congress MPs.
Party MPs are continuously leading protests against the BJP government. This visit of Mamta Banerjee is very important even in the midst of the split in opposition unity in the presidential election. In the past, there was also tension between the Congress and the Trinamool Congress.
For Latest Update from Sangri Today Like us on Facebook and Follow on Twitter. Fore Latest Video News Subscribe our channel on YOUTUBE. Also Join Our Telegram Channel