Ashok Gehlot will go to Kerala to meet Rahul Gandhi
Gehlot will go to Kerala to meet Rahul Gandhi: Will make the last effort to persuade him for the post of President and will file a nomination after himself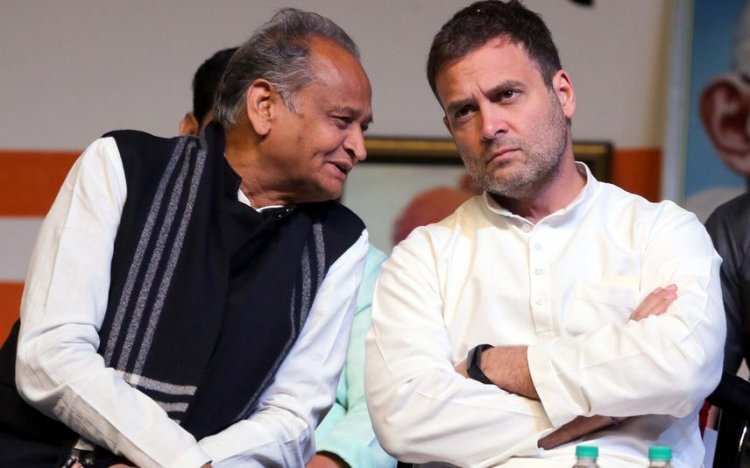 With the release of the notification regarding the election of the Congress President, the political excitement has increased. Rajasthan Chief Minister Ashok Gehlot is on his way to Kochi and Ernakulam in Kerala to meet Rahul Gandhi. Gehlot will meet Rahul Gandhi for the last time to convince him of the nomination for the post of President. After Rahul Gandhi's yes-no, Gehlot himself will proceed to file a nomination.
Gehlot had a discussion with Sonia Gandhi in Delhi for about two hours on Wednesday. After this, now going to discuss it with Rahul Gandhi. Gehlot had reached Mumbai on Wednesday night, from where he will reach Kochi today at 12 noon. From here, Rahul Gandhi will travel to Ernakulam and Thrissur and Chalakudy. Gehlot will do a night stay in Chalakudi and will go to Shirdi from there on Friday. Gehlot will participate in local programs after having the darshan of Shirdi Sai Baba. Gehlot is scheduled to return to Jaipur at 6 pm on Friday.
Rahul Gandhi has already refused to become the President. Congress Communication Cell Chief Jairam Ramesh made it clear on Wednesday that Rahul Gandhi will be out of Delhi in the Bharat Jodo Yatra from September 24 to 30. Rahul Gandhi will not be in Delhi on the dates of nomination for the post of Congress President. This means that he will not nominate for the post of president. Despite Rahul Gandhi's refusal, Ashok Gehlot is going to try to persuade him. Gehlot himself had said that he will try to convince Rahul Gandhi for the last time.
Ashok Gehlot's meeting with Rahul Gandhi today will be very important politically. After this meeting of Gehlot, the final yes or no will come out on the post of Rahul Gandhi. Gehlot will discuss with Rahul Gandhi Rajasthan along with a nomination for the post of president. Discussions are also expected about the next role of Sachin Pilot.
Gehlot, who has worked with four generations of the Gandhi family, will try for the last time
According to Congress sources, Rahul Gandhi is still adamant on the stand of making him a non-Gandhi president. After the defeat of the Congress in the Lok Sabha, in May 2019, Rahul Gandhi resigned from the post of Speaker and talked about finding a new Speaker. Rahul Gandhi's stand remains the same even today. Ashok Gehlot has experience of working with four generations of the Gandhi family and is considered one of the trusted leaders of the family. Rahul Gandhi respects Gehlot as a senior leader, so Gehlot is talking about celebrating him.
Gehlot had talked about persuading Rahul Gandhi in a conversation with the media in Delhi on Wednesday. On the question of visiting Rahul Gandhi for the last time, Gehlot had said – I am going, I will request one more time by going for the last time. It was I who had proposed within the State Congress Committee 4-5 days ago that Rahul Gandhi should accept the post of President. We wish that if a Congress President travels, then there will be more Ek Aura Banega of the party. I believe, then I am going to talk to him more, will try one more time, after that I will decide, then I will meet you.