Youth climbed on 440 volt high-tension tower
Youth climbed on the 440-volt high-tension tower: After 3 hours of effort, lowered down, police took to the police station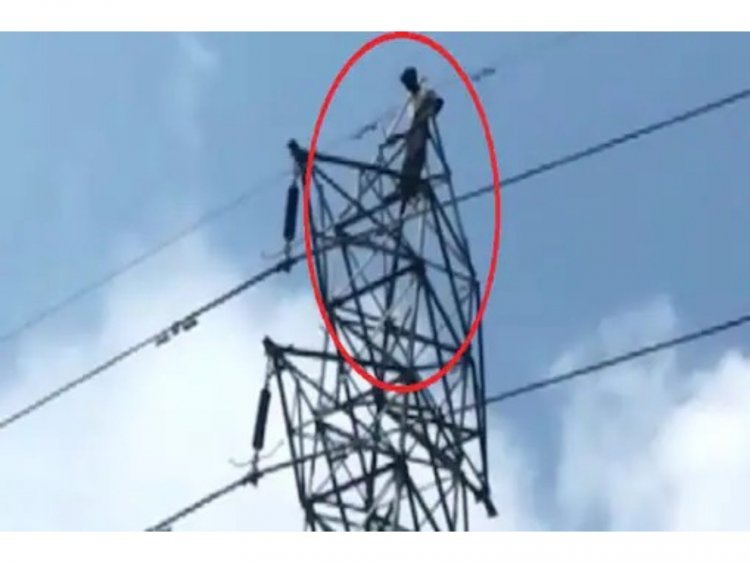 In the Bhajupura village of Bassi police station area, a young man climbed a 440-volt high tension tower. At first, the villagers tried a lot to bring down the young man, but the youth did not land. After which the local people informed the police. On information, the Bassi police station reached the spot and tried to bring down the youth, Banwari Lal Bairwa. When the youth did not come down, the police informed the Civil Defense about the incident.
The civil defence team that reached the spot brought down the youth after an hour's effort. This whole incident went on for about 3 and a half hours. At 5 o'clock in the morning, the villagers saw the young man climbing the high tension tower. After which there was a stir in the village, and a crowd of people gathered near the tower. After which the wife and mother of Banwari Lal Bairwa were also called to the spot. Only after the persuasion of these people, did Banwari Lal, who climbed the tower, come down.
Banwari Lal Bairwa, a resident of Bhajupura village, is said to be mentally deranged. Bassi police station said that they have reached Bassi police station with the youth. A certificate of his mental retardation is being sought from the family members. However, there was no demand for Banwari mounted on the tower. Nor was he asking any kind of police and administration. Mukesh Bairwa of the village told that Banwari has climbed the towers like this many times in the past too. And then he would go down on his own.
For Latest Update from Sangri Today Like us on Facebook and Follow on Twitter. Fore Latest Video News Subscribe our channel on YOUTUBE. Also Join Our Telegram Channel