Shinde faction allowed for Dussehra rally at BKC ground: MMRDA rejects Uddhav camp's application
Shinde faction allowed for Dussehra rally at BKC ground: MMRDA rejects Uddhav camp's application; Now waiting for permission in Shivaji Park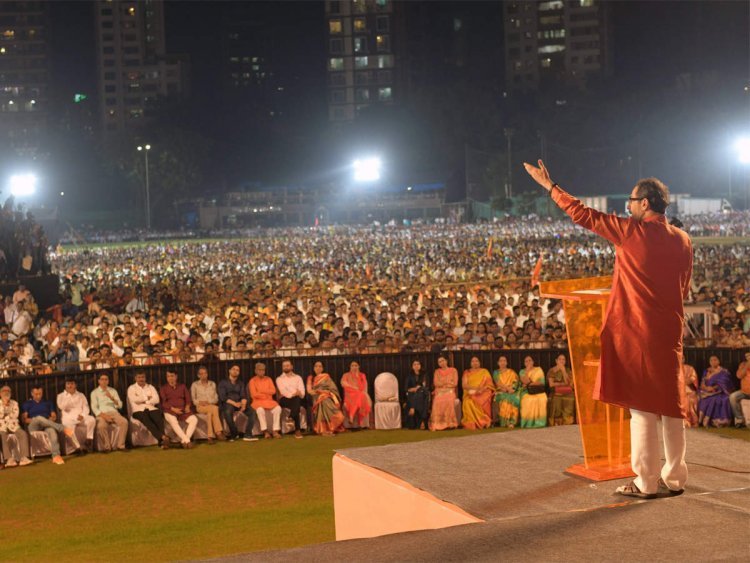 Uddhav Thackeray, who was defeated on the political ground of Maharashtra, has now got a big setback for organizing the Dussehra rally. In fact, the Shiv Sena faction of Maharashtra CM Eknath Shinde has got permission to organize the Dussehra rally at Bandra Kurla Complex (BKC) ground in Mumbai.
Shiv Sena organizes rallies every year during Dussehra, but this time due to the separation of the Eknath Shinde faction, now both factions are going to hold this rally. Both the factions had sought permission from the ground for this, but the Shinde faction got the permission.
The Mumbai Metropolitan Region Development Authority (MMRDA) rejected the Uddhav faction's event. MMRDA says that the plot has already been booked for some other function. Now both the groups are waiting for permission in Shivaji Park.
Rebel Shiv Sena MP Rahul Shewale had applied for permission for the Shinde faction's rally in BKC, while the Shiv Sena's application for Uddhav-led Shiv Sena was given by MP Arvind Sawant. At the same time, the BMC's decision on the applications of both the groups for holding a rally in Dadar's Shivaji Park is yet to come.
An MMRDA official said- We have given permission to the Shinde faction and they have also paid the rent. The application of Uddhav-led Shiv Sena was not accepted as the plot they had sought was already booked by some other company. Both the groups had applied for different plots inside the BKC ground.
The BMC has sought legal opinion on applications received from two groups for organizing the Dussehra rally at Shivaji Park. An official said a report has been sought from the BMC's G-North ward, which houses Shivaji Park, on how the permission for the previous Dussehra rallies was given. The application of one of the groups may be approved for the Dussehra rally at Shivaji Park this week.
Sawat said – the first come, first serve formula should be used for Shivaji Park
Uddhav faction MP Arvind Sawant said that just as the MMRDA used the first-come, first-served formula to allow the Shinde faction to rally in BKC, similarly the BMC should use the same formula for Shivaji Park so that We get permission.
Sawat said- We do not have any faction, we are Shiv Sena. An application was made from the Indian Kamgar Sena to get permission for the BKC ground. Now I have come to know that MMRDA has given permission to the Shinde faction. He had filed an application earlier, so he got permission first. This criterion has been prescribed by MMRDA.
He said- If you implement such criteria, then we should get permission to organize a Dussehra rally in Shivaji Park. We filed an application earlier to organize the Dussehra rally at Shivaji Park. If we are denied permission there, we will decide the strategy ahead.