Postponed date of National Cinema Day: 16, now tickets will be available on September 23
Postponed date of National Cinema Day: 16, now tickets will be available on September 23 for 75 rupees, the decision of the Multiplex Association has been taken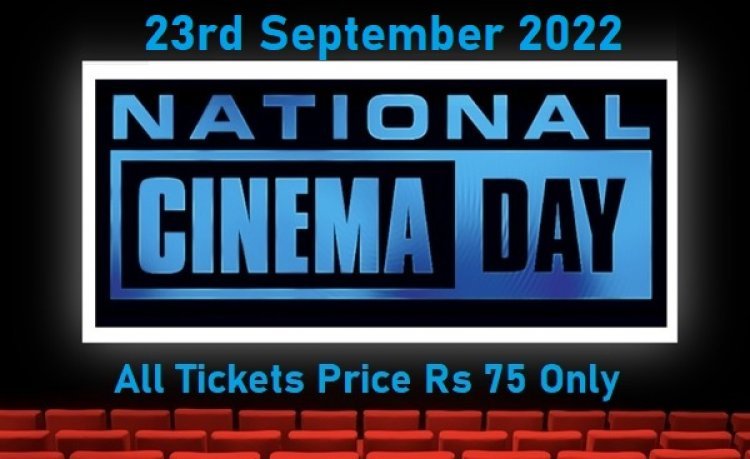 A few days ago, the Multiplex Association announced the celebration of National Cinema Day on 16 September. On this occasion, it was decided to show the film in cinemas across the country for just Rs 75. However, now at the request of the stakeholders, the Multiplex Association has extended the date of National Cinema Day by a week to 23 September.
In fact, the Multiplex Association had decided that all the cinema chains present across the country like PVR, Cinepolis, INOX, Carnival, MIRA, City Pride, Asian Mukt A2, Movie Time, Wave and Delight would be a part of this campaign. Also, films will be shown on more than 4000 screens for just Rs 75. September 16 was chosen for this, but now it has been changed to September 23.
To buy a ticket for Rs 75, you only have to buy a ticket from outside the cinema hall. Apart from this, you can also buy tickets online, but you will have to pay GST and internet fees separately.
Earlier National Cinema Day was to be celebrated on 16 September. Because of this, the fans could watch Brahmastra for just Rs 75 on that day, but after the change in the decision, now the tickets for Brahmastra will not be available for Rs 75 on any day. It is believed that this decision has been taken due to the strong craze of Brahmastra.
Cinemas were locked for a long time during the Corona period. Due to this, there was a lot of damage to the movie theatres. Although things are slowly returning to normal now, the cinema halls want to bring all the movie lovers back to the theatres.