OMG!!! Elvish Yadav once again broke the biggest record, crashed the system in India
Bigg Boss OTT 2 Winner Elvish Yadav: Well-known YouTuber Elvish Yadav has become the winner of the reality show Bigg Boss OTT Season 2. He got crores of votes. Elvish Yadav has been in the limelight ever since he became the winner. Recently he has broken a record which was in the name of MC Stan, the winner of Bigg Boss 16.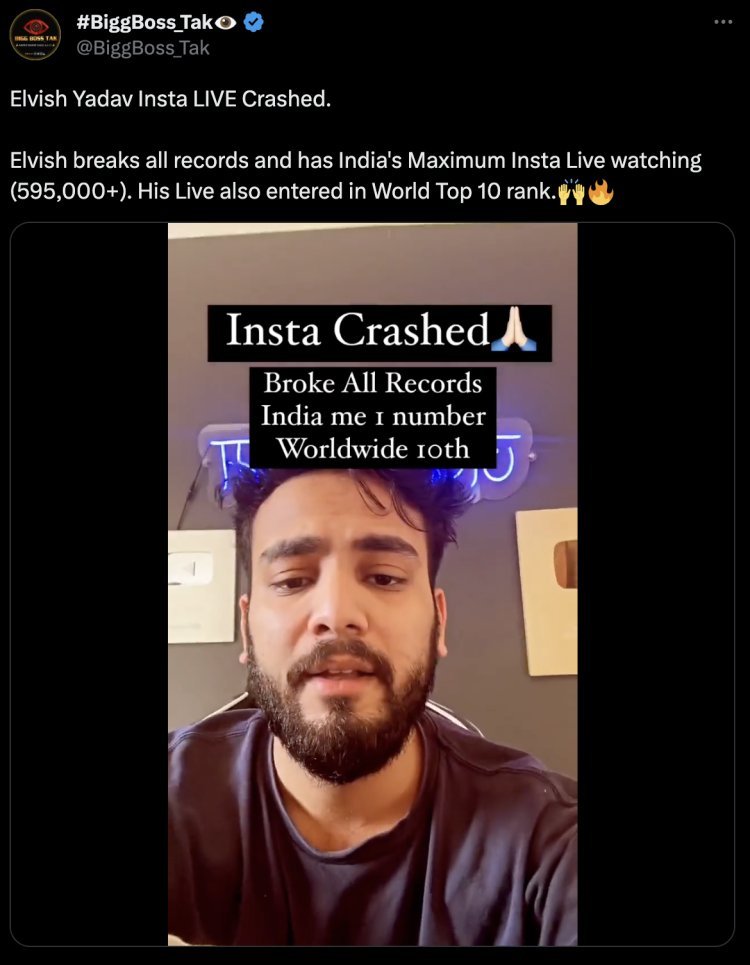 Youtuber Elvish Yadav won the trophy for the controversial reality show 'Bigg Boss OTT 2'. Elvish was the first wild card contestant in the history of Bigg Boss, who became the winner.
Ever since Elvish Yadav took entry in Bigg Boss, only his system was running. Within a month, Elvish had won the hearts of the whole country with his brilliant game. His craze is not hidden from anyone. He got crores of votes in 15 minutes. Now Elvish Yadav has broken another record.
Elvish Yadav went live on Instagram on Saturday. Elvish Yadav's Instagram Live has become the most viewed live in India. Over 5,95,000 viewers tuned in live with Elvish. Elvish's live session also crashed due to heavy traffic.
Elvish Yadav shared this information while sharing a clip on his Instagram account. He said in the video, "Just now you must have seen that my live was crashed. There is so much load and traffic on my phone that my live is crashed. The good news is that I have broken India's record and we are number one. Have come. 6 lakh people joined us.
Before Elvish Yadav, this record was with MC Stan. When the MC went live on Instagram after becoming the winner of 'Bigg Boss 16', he left behind many big stars including Virat Kohli.
After winning the trophy, a video of Elvish Yadav surfaced, in which he told how many votes he got in the finale. Jio's head told him that 280 million votes had come for him in 15 minutes.