Congress President in Kharge-Tharoor fray: Tripathi's nomination paper rejected
Congress President in Kharge-Tharoor fray: Tripathi's nomination paper rejected; Kharge resigns from the post of Leader of Opposition, now four contenders for this post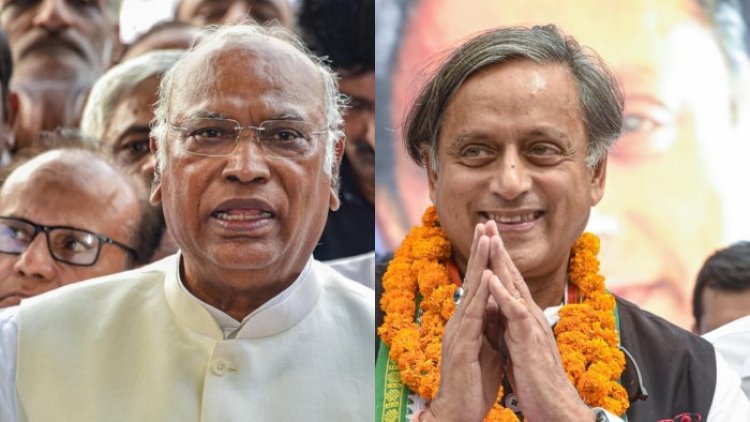 Now only two candidates are left in the election for the post of Congress President. The nomination of former Jharkhand minister KN Tripathi has been cancelled. Election authority Madhusudan Mistry told that 20 forms were submitted. Four were rejected in the investigation. There were discrepancies in the signature. Tripathi had filled only one form which was rejected due to the non-match of the signature of the proposer and duplication of signature. After this, Mallikarjun Kharge and Shashi Tharoor are left in the field.
Mistry said the last date for withdrawal of nominations is October 8. If no one withdraws one name, then voting will be ready. Meanwhile, Kharge has resigned from the post of Leader of Opposition in the Rajya Sabha. Due to this, the search for a new leader has started in his place. Coming to this House, the government has been stuck on the united attack of the opposition. Here the numbers are fork.
According to sources, the names of former Finance Minister P Chidambaram, former Union Minister Mukul Wasnik, Chief Whip Jairam Ramesh, and former CM of MP Digvijay Singh are among the contenders. Digvijay withdrew his nomination after Kharge's candidature for the post of president.
Tharoor, who was the vocal voice of G-23, has changed since he became the candidate for president. The DNA of the Gandhi family and the Congress is the same, he said. Congress has had a historical role, in which the people of Gandhi and the Nehru family played a big role. No president is so stupid as to say goodbye to the Gandhi family.
The Gandhi family is a big asset. Tharoor said that I have come to Kerala to join the India Jodo Yatra. I have seen enthusiasm in people towards Rahul Gandhi. The new president of Congress who is elected should take forward the India Jodo Yatra.