Anand Mahindra became a fan of this indigenous innovation
Anand Mahindra became a fan of this indigenous innovation: Rural boy-made 6 seaters electric bike from jugaad, cost Rs 12 thousand; Will run 150KM on a full charge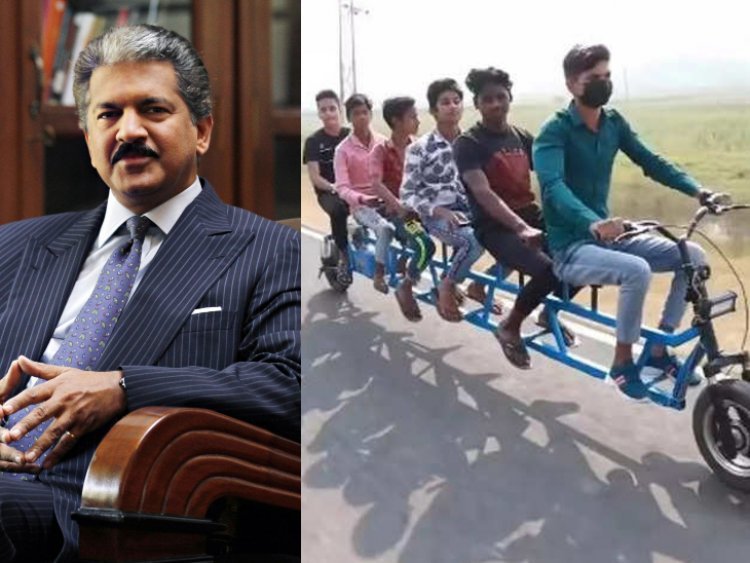 Veteran businessman and chairperson of Mahindra & Mahindra Company, Anand Mahindra recently praised the indigenous innovation of a simple village boy. Actually, a video is becoming quite viral on social media, in which a village boy is seen driving a 6-seater electric bike, which he has made himself.
Anand Mahindra shared this viral video on Twitter and praised the innovation made by this village boy and his desi jugaad. It can be seen in this viral video that a village boy is seen sharing the details of his hand-made 6-seater electric bike.
In this 30-second viral video, the boy says, 'I have made this 6-seat electric bike. On this bike, 6 passengers including the driver can sit and walk together at a time. I have made this bike at a cost of 10 to 12 thousand rupees. Once fully charged, this bike can be run up to 150 kilometres. It costs only 8 to 10 rupees to charge it fully.
Anand Mahindra shared this video and tagged Pratap Bose, the chief designer of his company, and asked him questions. He wrote in the caption of the video, 'After only minor changes in the design, this bike can be brought to the global level.'
Anand Mahindra further wrote, 'Can this bike be used as a tour 'bus' in crowded tourist centers of Europe? I have always been a fan of rural transport innovation, where necessity is the mother of invention. Seeing this viral video on social media, many users are also commenting and praising this rural boy and his innovation.