Ajay Devgan reached Kashi Vishwanath amidst the success of Drishyam-2
Ajay Devgan reached Kashi Vishwanath amidst the success of Drishyam-2: Said- wanted to come here for a long time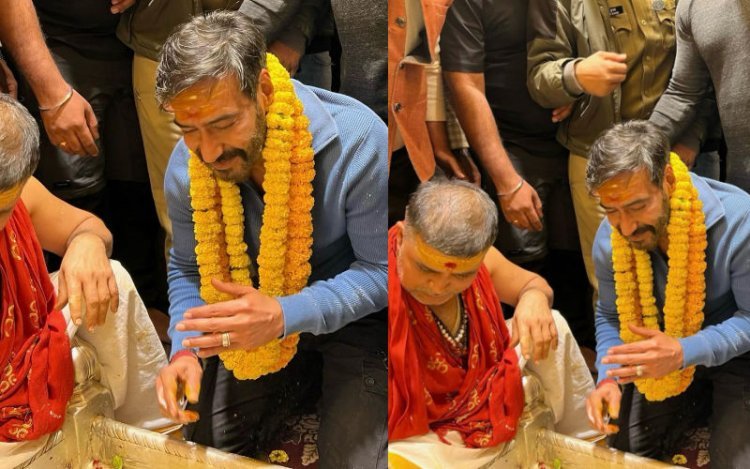 Ajay Devgan recently visited the famous Kashi Vishwanath Temple in Varanasi. He has also shared a picture of the time of offering prayers in the temple on his social media account. Ajay captioned the photo saying that he wanted to come here for a long time. Let us tell you that Ajay's recently released film Drishyam 2 has crossed the 100 crore mark at the box office.
In the picture shared by Ajay, he is seen engrossed in prayer kneeling on the floor with a garland around his neck. Many devotees are also visible behind Ajay. Ajay wrote in the caption of the picture - "Darshan of Kashi Vishwanath, I was waiting for this moment for a long time. Har Har Mahadev."
A lot of reactions are coming from the fans on this post Ajay. Ajay Devgan's recent film Drishyam 2 is doing well at the box office. Now looking at Ajay's Kashi Yatra, it is speculated that he has reached Baba's doorstep after being happy with the success of Drishyam 2.
Please tell that Ajay Devgan starrer Drishyam 2 has earned 100 crores within a week. The total earnings of the film have gone up to 104.66 crores. This year has been very dull for Bollywood. There are very few films which have done well at the box office and now Drishyam 2 has also become a part of this list.
Drishyam 2 is also being called successful because it has collected more than its budget. Made in only 60 crores, this film has collected more than 100 crores within a week. Apart from Ajay Devgan, the film stars Tabu, Akshaye Khanna and Ishita Dutta in lead roles.
For Latest Update from Sangri Today Like us on Facebook and Follow on Twitter. Fore Latest Video News Subscribe our channel on YOUTUBE. Also Join Our Telegram Channel