Khalistan broke the statue of Mahatma Gandhi in Canada
Khalistan broke the statue of Mahatma Gandhi in Canada: wrote derogatory things by putting the flag of Khalistan, gifted by India in 2012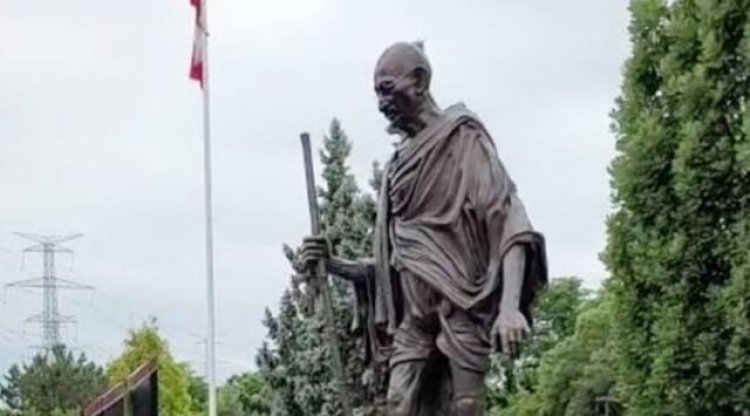 The anti-India activities of Khalistanis abroad are continuously increasing. Now supporters of Khalistan vandalized the statue of Mahatma Gandhi in Canada and wrote slogans against India and Prime Minister Narendra Modi with spray paint on it. According to reports, the Khalistanis have also written many derogatory things on the statue of Mahatma Gandhi, the father of India.
The incident is being told of Thursday. The Khalistanis also put their flag on the statue of Mahatma Gandhi. This 6 feet tall statue was given to Canada as a gift by the Government of India in the year 2012. Which was installed in the city hall of Hamilton city of Ontario province there.
The matter of vandalizing the statue of Mahatma Gandhi on Thursday has come to the fore when the Canadian government assured to take strict action against the Khalistanis. In fact, a demonstration was held by the Khalistanis in the Canadian city of Ottawa on Thursday. In this, the protesters had also committed indecency with an Indian journalist.
Due to the protest by the Khalistanis, the Indian ambassador had to cancel the plan to attend a program in British Columbia, Canada. After this, the Foreign Ministry of Canada issued a statement assuring that they would take strict action against the nuisance of Khalistanis.
Khalistan supporters also attacked the Indian Consulate in San Francisco, USA, after the tricolour was insulted at the Indian High Commission in London on Sunday. According to media reports- Khalistan supporters also gathered here on Sunday. These people wrote Amritpal Riha Karo… with spray paints. These people broke the gates of the Consulate. Khalistan flags were hoisted there.
At the same time, Khalistani supporter Avtar Singh Khanda, who insulted the tricolour outside the Indian High Commission in London, was arrested in Britain. Khanda is a member of the banned group Babbar Khalsa International (BKI). At the same time, in the ongoing investigation in Punjab, it is also coming to the fore that Khanda is the handler of Amritpal.
Khanda is special to Paramjit Singh Pamma, a key BKI member hiding in Pakistan. On Pamma's orders, Khanda prepared Amritpal Singh for the Khalistan mission in Punjab. After this Amritpal was trained in Georgia. Amritpal learned the essentials of Sikhism here. When Amritpal returned to India, he was popularized among the youth through social media accounts.