Martyr Pramod of Jind merged in Panchatatva: Naib Subedar injured due to breaking of ship's bell
Martyr Pramod of Jind merged in Panchatatva: Naib Subedar injured due to breaking of ship's bell; 5-year-old son lit the fire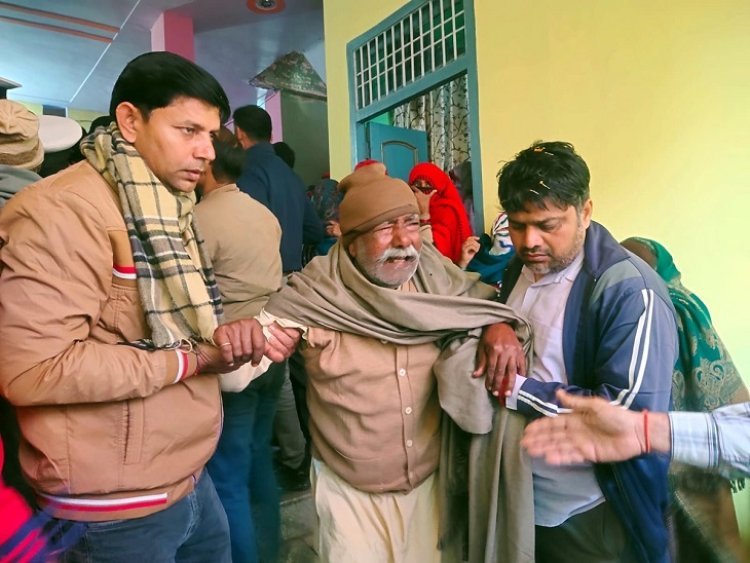 Naib Subedar Jawan Pramod (28) of the Indian Navy was given a final farewell with state honours at village Bahadurgarh located in Safidon of Jind in Haryana. Pramod Kumar was posted in Goa. There he lost his life in an accident caused by the breaking of the ship's bell.
As soon as Pramod Kumar's body wrapped in tricolour reached village Bahadurgarh, a wave of mourning ran in the family and the village. When the army team reached the village with the dead body, the villagers raised slogans of Pramod Kumar Amar Rahe.
On the other hand, a 9-member army contingent led by Deputy Commandant Yogesh Singh from the Indian Coast Guard Sachet and Haryana Police jawans bid farewell to their comrades by bowing their arms and playing mournful tunes.
Martyr Pramod Kumar's father Satpal Singh, wife, children and brother were crying bitterly during the last darshan. Shaheed Pramod Kumar's 5-year-old son offered oblations to his father. Please inform that Naib Subedar Pramod Kumar was recruited as Naib Subedar in the Coast Guard about 5 years ago. Pramod Kumar was injured in an accident while on duty in Goa. He was immediately taken to the hospital where he breathed his last.
Pramod Kumar spoke to his wife Kavita two hours before his death on February 5. Pramod had said that he would come home on February 11. The marriage was to take place in the family on 12 February. Before this, an accident happened to him.
Pramod Kumar, a resident of Bahadurgarh, was admitted to the post of Coast Guard in the Indian Navy in the year 2017. After which his posting was in Goa. On March 13, his duty was started in Gujarat.
Safidon constituency MLA Subhash Deshwal said that Pramod Kumar made the supreme sacrifice while serving the nation. They salute their sacrifice. He demanded from the government that huge financial assistance should be given to the family of the martyr and a government job should be given to the family member. SDM Satyawan Singh Mann said that the entire Safidon administration is with the family. Every possible help will be provided by the administration of the family.
For Latest Update from Sangri Today Like us on Facebook and Follow on Twitter. Fore Latest Video News Subscribe our channel on YOUTUBE. Also Join Our Telegram Channel