Jaipuria Hospital: Patients are upset amid chaos, long queues increase patients' pain, nursing staff is distributing medicines
Jaipuria Hospital: Patients are upset amid chaos, long queues increase patients' pain, nursing staff is distributing medicines; patients in the gallery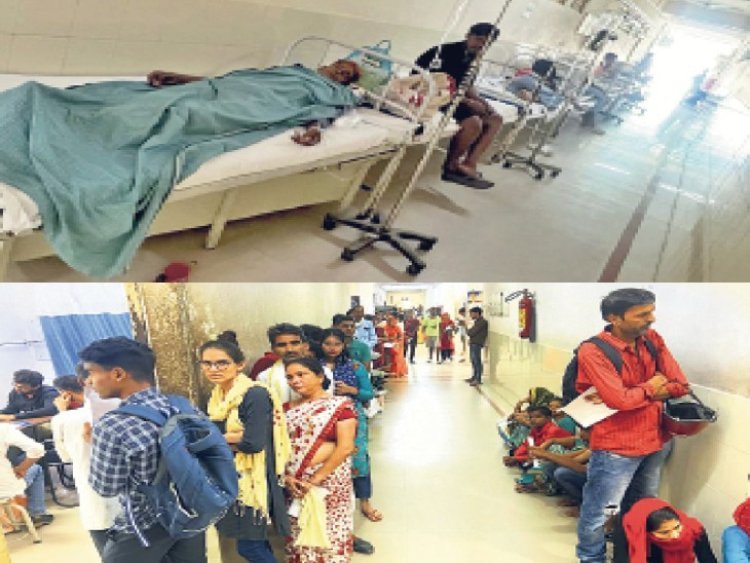 On one hand, continuous efforts are going on in SMS to end the "queue system" of patients, while on the other hand due to increasing queues in Jaipuria Hospital every day the merge is increasing. Apart from this, the hospital is dependent on the nursing staff and the work from ECG to giving medicines to the patients is being done by the nursing staff.
There is such a shortage of staff in the hospital that instead of admitting the patients in the ward, they are being admitted in the gallery itself so that only doctors coming to the ward can see them. Dainik Bhaskar's report on what are the shortcomings in the hospital and how patients are suffering, how much staff is lacking and what is the final solution.
The OPD queue in Jaipuria Hospital is increasing every day. Earlier, where there used to be just one to one and a half thousand OPDs, it has now reached three thousand. In OPD one has to wait for two hours to see doctors and then queue for a checkup and then line to see doctors. In such a situation, those who come to the hospital around 11 o'clock and their test is written, then have to come to see the next day.
According to the rules, only pharmacists can give medicines, but only nursing students are giving medicines in Jaipuria Hospital. Not that there are no pharmacists in the hospital, but they are not present all the time and the medicines are dispensed by the nursing staff on duty. In such a situation, the question is that when the rules are not followed in the government hospital itself, then how is it possible to do it in other hospitals? Apart from this, if the wrong medicine is ever given to a patient then who will be responsible for it?
Patients are kept lying in the gallery on the first floor, while the male surgical ward is empty. In the conversation, the patients and their relatives told that whenever doctors come to the nearby ward (female surgical), they go after seeing them.
Many counters for cutting slips are on the outside and as soon as there is a long line, the sun starts bothering. Pregnant women also keep queuing up. On the basis of patients, arrangements can be made over the counter and relief can be found.