India send Dornier aircraft received by Sri Lanka
Dornier aircraft received by Sri Lanka from India: will be useful for maritime surveillance; Navy Vice Chief handed over to Ranil Wickremesinghe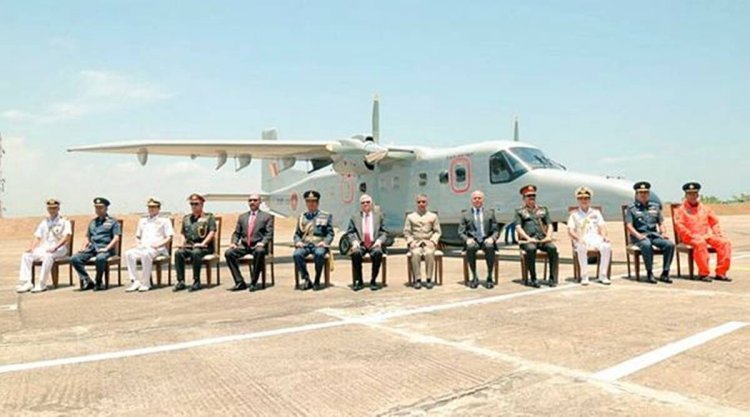 The country is celebrating independence on Monday. Meanwhile, India has handed over a Dornier aircraft to the Sri Lankan Navy. This aircraft is used in Maritime Surveillance ie Maritime Surveillance. Sri Lankan President Ranil Wickremesinghe and Vice Chief of Indian Navy Vice Admiral S. N. Ghormade were present.
Admiral Ghormade is on a two-day tour of Sri Lanka. Indian High Commissioner Gopal Baglay was also present at the ceremony. The aircraft was handed over to the Navy at the Sri Lankan Air Force Base. This airbase is in Katunayake near Colombo International Airport. India has given this aircraft to meet the immediate security needs of Sri Lanka. The Indian Navy has also given the training to operate aircraft in Sri Lanka.
During the ceremony, High Commissioner Baglay said that the security of India and Sri Lanka has been boosted by mutual understanding, mutual trust and cooperation. India has contributed to this cause by presenting the Dornier 228. This will boost the bilateral defence partnership between the two countries.
The Dornier 228 is a short take-off and landing (STOL) maritime patrol aircraft. The Indian Navy uses this multirole light transport aircraft for electronic warfare missions, maritime surveillance and disaster relief. This aircraft is being produced in India since 1981.
According to news agency PTI, a senior official in Delhi told that Sri Lanka has been an important partner of India and we will continue to expand our bilateral defence cooperation in the coming year. India will hand over a total of two Dornier aircraft to Sri Lanka. These aircraft are being made by aerospace company Hindustan Aeronautics Limited (HAL).
Defence talks between India and Sri Lanka were held in Delhi in January 2018. Meanwhile, Sri Lanka had sought two Dornier surveillance aircraft from India to enhance maritime surveillance capabilities. To operate this aircraft, a crew of 15 members of the Sri Lankan Air Force has taken 4 months of training in India. The team consisted of pilots, observers, engineering officers and technicians.
The Government of India team attached to the Sri Lankan Air Force (SLAF) will provide all technical assistance to Sri Lanka. The Sri Lankan Air Force said on Monday that the team will examine documents related to the aircraft, airframe, aircraft support equipment, and ground support equipment and ascertain the capacity of all the assets.
India handed over this aircraft to Dornier Sri Lanka a day before the Chinese spy ship Yuan Wang 5 reached Hambantota Port. The Chinese ship was scheduled to reach Hambantota on 11 August. But India had objected to it. After this Sri Lanka allowed the ship to come to Hambantota from 16 to 22 August. However, it is not clear whether the ship will reach Sri Lanka yet.
India believes that the Chinese ship's tracking system will pose a threat of espionage by the Indian Navy and ISRO. India on Friday rejected that allegation of China. China had said that India put pressure on Sri Lanka against the ship reaching Hambantota. Foreign Ministry spokesman Arindam Bagchi said that Sri Lanka, as a sovereign country, takes its own independent decisions. At the same time, India will take a decision regarding its security based on the current situation in the region.