Child actress Sejal Gupta crowned as Miss Teen International India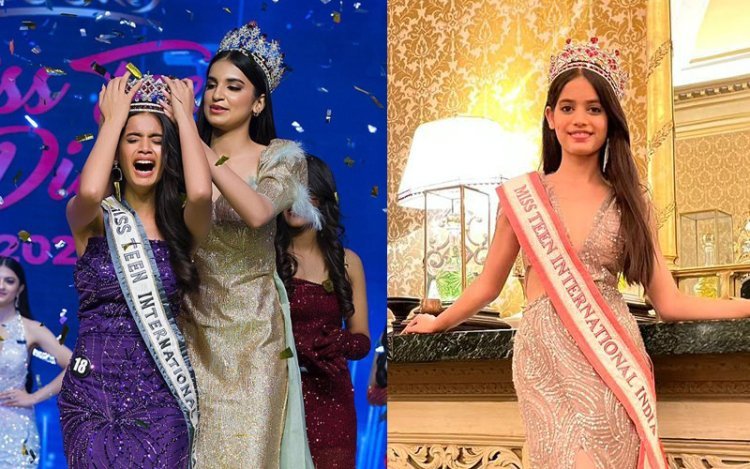 Child actress Sejal Gupta crowned as Miss Teen International India
Thirteen-year-old child actress Sejal Gupta, known for her roles in the TV show 'Kya Haal Mr Panchal' and the Bollywood movie 'Mission Mangal', has made headlines by winning the Miss Teen International India title at the Miss Teen Diva Pageant. The young talent, who frequently travels between Mumbai and Chandigarh for work, expressed her excitement and pride over being crowned the youngest Indian to achieve such a title.
Sejal, who has just started her 9th standard academic year, shared her ambitions and bucket list, saying she wants to become a global icon and role model for younger generations, shatter stereotypes, and inspire everyone to believe that age is just a number. She also highlighted the importance of mental health in kids and urged parents to support their children in achieving their dreams.
The Miss Teen International India winner is currently enjoying her moment of glory, but her busy schedule will soon see her promoting several upcoming films. These include the Peshawar series, Kun Faya Kun with Harshwardhan Rane and Sanjeeda Shaikh, Sukhee with Shilpa Shetty Kundra, Jo Tera Hai Wo Mera Hai with Amit Syal, Sonali Kulkarni and Paresh Rawal, and Tiwari with Urmila Matondkar.
Sejal's latest achievement as the youngest Miss Teen International India winner has brought attention to her budding career in the entertainment industry. Her success at such a young age is inspiring for many and highlights the potential of India's youth. With her talent and ambition, Sejal is sure to make a name for herself in the world of film and television in the coming years.