Virat-Babar chemistry seen in Dubai
Virat-Babar chemistry seen in Dubai: Kohli, while going for practice, shook hands with Azam, and encouraged him by patting his back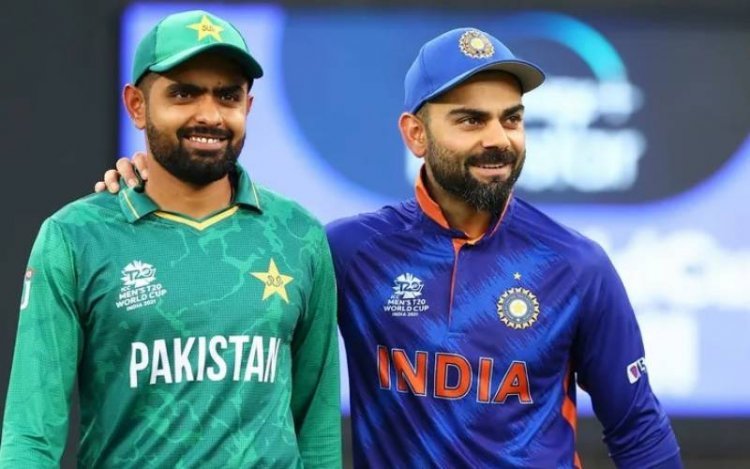 After the World Cup 2021, India-Pakistan is going to play a match on August 28 for the first time. Both the teams have reached Dubai to participate in the Asia Cup. On Wednesday, Team India also did the first practice session. During this, a wonderful sight was seen. Former India captain Virat Kohli met Pakistan captain Babar Azam. He shook hands with Babur and encouraged him by turning his back.
BCCI has shared its video on social media. Apart from Kohli, other players including Hardik Pandya, Yuzvendra Chahal, Suryakumar Yadav, Ravichandran Ashwin, Dinesh Karthik and Arshdeep Singh were also seen in the video. Chahal and Hardik met Afghanistan players. Babar is currently one of the top batsmen in the world. At the same time, Kohli is currently struggling for form.
During the tour of England, when Virat Kohli was constantly flopping with the bat. Then Babar Azam boosted the morale of Virat Kohli. He tagged Kohli by sharing a post on social media. Babar had written in this post – This time too will pass, keep courage. This post of Babar was well-liked. Replying to this post, Virat wrote, 'Thank you, keep moving forward and keep shining. Best wishes to you.
Virat Kohli has been struggling with his form for a long time. Even on the tour of England, he could not show anything special. In such a situation, everyone's eyes will be on his return in the very first match against Pakistan. It has been more than 1 thousand days since his century came off his bat.
In an interview with Star Sports on Wednesday, Kohli said that what happened in England in 2014 was a different matter. Now I have improved a lot in my shot selection and I am not facing any problems in batting now. I know what I'm doing. You cannot go this far in your international career without batting well.
You have to be ready to face the toughest conditions on the field and different types of bowling. I know there will be ups and downs in my career, and I will come out of such phases as well. My experience is very important to me.