Revolutionizing the Indian job market for professionals, Job seekers and giving freelancers the platform of their dreams: Proversify
Individuals seeking employment, including those new to the workforce, interns, and freelancers, encounter various challenges in their search for opportunities. Proversify understands people's pain points regarding finding the right work, platform, and community. Thus, it solves them by providing a platform that is both diverse and accessible.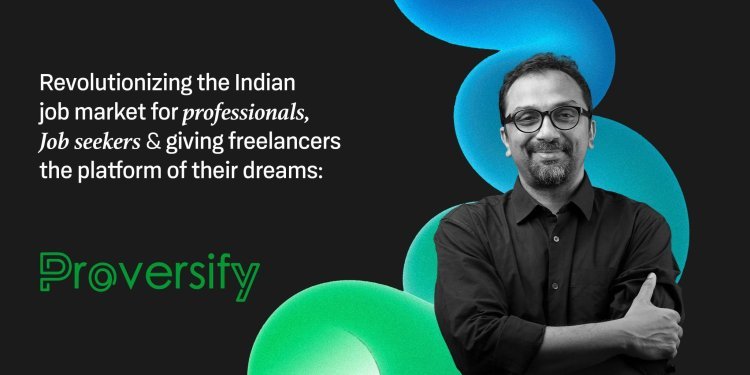 Revolutionizing the Indian job market for professionals, Job seekers and giving freelancers the platform of their dreams: Proversify
Proversify stands for Professional Diversity, and it caters to a wide range of industries, from graphic designing to web development, digital marketing to accounts, and many more. The opportunities at proversify are never-ending.
Proversify is an Indian-based platform. It is the ultimate destination for anyone seeking opportunities to upscale their career at the best.
It aims to connect the right talent with the right people. It has a knack for people's desires for leveling up in life and achieving the set milestones, thus creating a safe environment to provide them with it.

Now, let us read on what the founder and co-founder of Proversify wants to share about their brand.

"Nitin Chawla, Founder of Proversify, shares his journey and vision for the platform. Proversify aims to revolutionize work by connecting professionals with suitable opportunities, empowering individuals, and fostering collaboration, growth, and flexibility. They aim to create inclusive economic opportunities and become India's trusted platform. Proversify embraces diversity and strives for an inclusive future of work. Chawla expresses gratitude to Pro-Customers and encourages Pro-Heroes to recognize their value. The platform aspires to make a lasting impact, uniting professionals and evoking a sense of unity and emotion in the professional world."

Mr. Deepak Juneja (co-founder, Proversify) has his share of vision regarding the company

"Proversify, an innovative solution for today's dynamic businesses, aims to connect professionals with suitable customers nationwide. The platform serves as a bridge, offering opportunities for students, freelancers, and individuals seeking flexible work arrangements. Proversify caters to the needs of Gen Z and Millennial professionals while providing corporations access to talent without long-term commitments. The vision extends to empowering women on sabbatical, retired professionals, and specially-abled individuals. By embracing flexibility and fostering collaboration, Proversify creates a transformative ecosystem for growth and success. The founder invites readers to join this remarkable endeavour in shaping a future where professionals thrive, and innovative solutions emerge."
The platform provides career growth opportunities to professionals, gram skilled workers, freshers, mothers, specially-abled individuals, retired officials, college students, those who wish to restart their professional front, and anyone with the desired skill set and talent. It recognizes the importance of diversity in the workforce and ensures that no individual is excluded from finding work due to their background or personal circumstances.
The brand stands out in terms of its core: diversity and its unique approach to mentioning its people on board. Proversify refers to its candidates as "Pro-Heroes," meaning "Professional heroes." The platform acknowledges the contributions of individuals to society and recognizes their hard work and dedication to their craft. The brand focuses on creating a community of equals; therefore, they mention their customers as "Pro-Customers," specially-abled professionals as "Special Pro-Heroes, and freshers as "Pro-Freshers."
Being an Indian platform, it solves one of the significant issues faced by people looking for work online, the issue of converting currencies. It also ensures timely payments making it more accessible and simpler for candidates and employers. Moreover, it aims to provide jobs, internships, or paid projects for everyone, regardless of gender, age, or career background. The platform ensures that anyone with a skill or talent can find opportunities that suit their needs and interests.
Proversify caters to in-demand career options that were not in the limelight a few years ago, such as yoga instructors, content creators, logo designers, etc. This ensures you are not limited to conventional choices and can put your foot in the door you want.
Proversify is an ideal catch for anyone looking to embark on a professional journey because it provides end-to-end solutions to employers, employees, freelancers, and project owners.
The platform offers incredible opportunities to search, connect, freelance, and find opportunities.
In conclusion, Proversify is a game-changer in job search platforms. Proversify is an employment-empowering platform that will revolutionize how we find and do work.