Love-All Special Screening at Gopichand Badminton Academy, Hyderabad, 15th August '23
Hyderabad :  on the celebrated occasion of Independence Day, a special show of sports-drama feature film 'Love-All,' based on Badminton, was organized in the special presence of world famous Badminton Guru Shri Pullela Gopichand.  Renowned actor Mr. Kay Kay Menon playing the lead role in the film, director of the film Mr. Sudhanshu Sharma, Mr. […]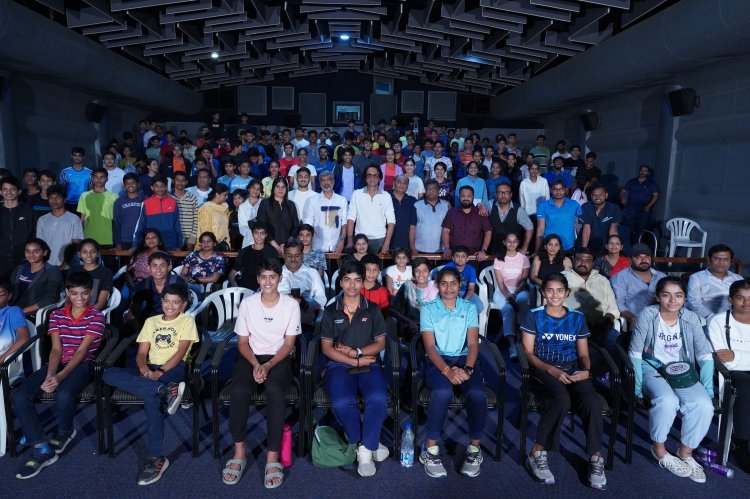 Love-All Special Screening at Gopichand Badminton Academy, Hyderabad, 15th August '23
Hyderabad : on the celebrated occasion of Independence Day, a special show of sports-drama feature film 'Love-All,' based on Badminton, was organized in the special presence of world famous Badminton Guru Shri Pullela Gopichand. Renowned actor Mr. Kay Kay Menon playing the lead role in the film, director of the film Mr. Sudhanshu Sharma, Mr. Ramesh Vyas of Lakshmi Ganapathy Films, along with several other members of cast and crew were present during the event. The film is being released by Lakshmi Ganpathy Films nationwide on 25th August .
Internationally ranked star players like Kidambi Srikanth, Gayatri Gopichand, Sameer Verma, Saurabh Verma, Priyanshu Rajawat and more than 200 players from all over the country, taking professional badminton training at the Gopichand Academy, saw the film together. Resounding applauds and tears were a common scene by the end of the movie.
Talking to the press on this occasion, Shri Pullela Gopichand said that as a player, coach and a father, I would say that 'Love-All' is a great film showing the best of badminton. Every sports person should watch this film. This is a real sports film, seeing which every player will say that this is my story. He congratulated the film's director Sudhanshu Sharma and his entire team for making this film possible. Gopichand ji praised Kay Kay Menon for authentic portrayal of his role in the film.
It is worth mentioning that Shri Gopichand, a world-famous badminton coach and player himself, said the film is presenting real badminton on screen. It is also notable that living legend of badminton himself is presenting this sports-drama feature film to audiences.
Along with Shri Gopichand, well known producer-director of the film industry, Mr. Mahesh Bhatt, too profoundly praised the film at a separate screening and expressed his desire to be associated with the film by becoming a presenter. Mr. Bhatt said that it is necessary for children and youth of today's time to watch this film.
The director of the film, Sudhanshu Sharma, said that the main inspiration behind the making of this film was to show how important sports are in reforming life, in the process he also wanted to show best of badminton to the audiences. He said that this film was made taking services of national and international level players as actors to show the real thrill of badminton on screen. A love story running in the backdrop makes the film even more interesting.
Mr. Kay Kay Menon, who is playing the lead role in the film, said that this film is unique because its real hero is 'sports!' This film tells the story of every sportsman with badminton as the central theme. He added that going above victory and defeat, this film shows the real philosophy of sports and tells us how sports make life better.
The film's producer-director Mr. Sudhanshu Sharma told that after almost 2 years of pre-production preparations, the film was shot in Bhopal in 2018-19 and due to some global events, it was finished by 2022. The film will be released in theatres across the country on August 25 by Lakshmi Ganapathy Films.
Film's music is composed by Saurabh-Vaibhav, Ankit Pandey and Sonal's songs have been sung by Sonu Nigam, Papon, Jubin Nautiyal, and Anjali. Film's music is already being well received by listeners across age groups, especially by the younger audiences; music of the film is available on all major music portals.
The film stars Kay Kay Menon, Swastika Mukherjee, Sriswara, Ark Jain, Deep Rambhiya, and Mazel Vyas in lead roles. Cinematography is by Shri Jaywant Murlidhar Raut.
On this occasion, film director Mr. Sudhanshu Sharma specially thanked Mr. Pullela Gopichand for not only appreciating the film but also for becoming a presenter of the film. Sudhanshu also thanked all the national and international players present, including Kidambi Srikanth, and Badminton Gurukul representative Ms. Supriya Devgun.
'Love-All' is releasing on August 25, 2023, in cinema halls across the country in 7 languages, including Hindi, Tamil, Telugu, Kannada, Malyalam, Bangla, and Odiya.